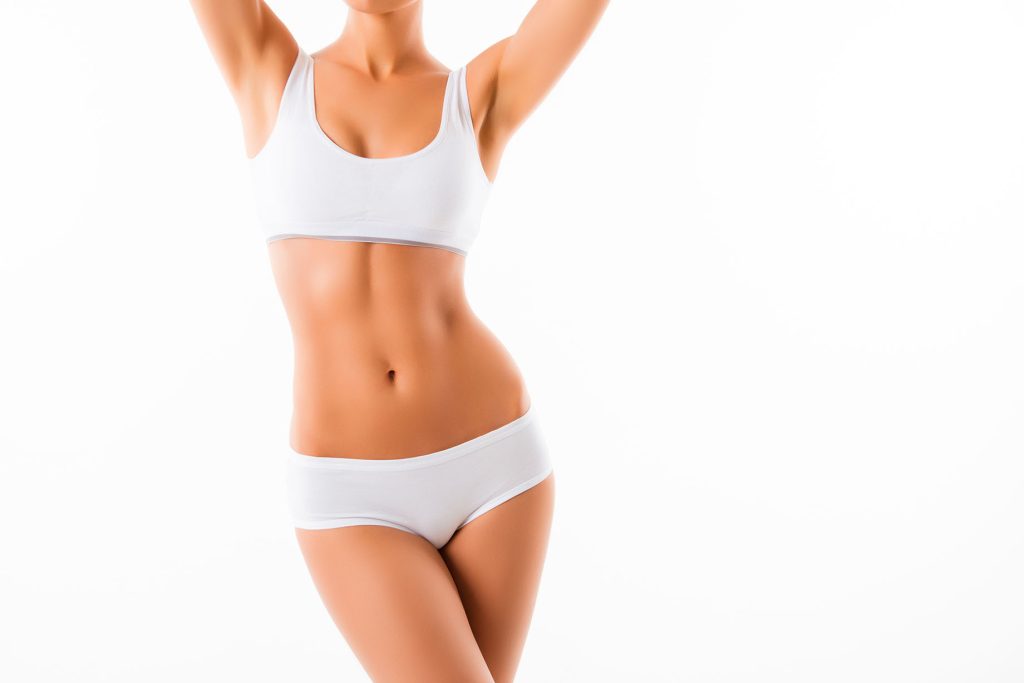 Today's liposuction techniques are designed to expedite recovery and achieve smoother, slimmer contours. For decades, patients and surgeons have used liposuction to lose stubborn fat and achieve an optimized physique. Recently, new tools, techniques, and technologies have allowed for enhanced results in less time with less invasive procedures. These advances have opened the door to new possibilities for body sculpting and given more patients their ideal aesthetics. But how do you know which modern liposuction technique is right for you? During a personal consultation at Denver Liposuction Specialty Clinic, we will explain the advantages of each technique, determine which are best for you, and outline the type of results you can expect. The first step is to schedule a consultation at our offices in Englewood. If you'd like to reach us directly, our office number is (720) 372-2155.
Before and After Photos
About Traditional Liposuction
With age, our body accumulates unwanted fat just below the skin's surface. This stubborn fat often lingers after we've finished a weight loss journey or completed a new diet. A father-son duo of French surgeons developed traditional liposuction in 1975 to target this type of fat.[1] Using a small incision near the target fatty areas, an aspirating cannula is inserted to suction out the adipose tissue. While the basic principle of today's liposuction remains the same, advanced liposuction techniques now offer a smoother procedure, recovery, and results.
Advanced Liposuction Benefits include:
The ability to perform the procedure under local anesthesia
A less invasive procedure because of smaller cannulas and easier removal of fat
Less injury to the surrounding tissues for improved comfort and a faster recovery
Anesthesia
Liposuction can be performed using general anesthesia to keep patients comfortably sedated throughout the procedure.
Patients often prefer local/awake procedures because it is less expensive and avoids some things like a sore throat from being intubated.  But general anesthesia is an extremely safe choice when done with board-certified anesthesiologists.  Denver Liposuction specializes in awake lipo, but will perform procedures under general anesthesia if:
The patient wants more than three areas treated at one time
A tummy tucks is being performed
The patient's medical history makes it safer to do under general anesthesia
Most of the time it is the patient's choice!
Today's Techniques
We use modern technologies and techniques that are designed to improve results. Our collection of advanced techniques includes tumescent fluid, SmartLipo, and VASER liposuction, all of which can be performed with local anesthesia and sedation.
Tumescent Liposuction
Unlike the very first liposuction procedures, today's lipo includes the use of tumescent fluid. Tumescent fluid was developed in 1985 by a Californian dermatologist, Dr. Jeffrey Klein. He created this solution to avoid the pitfalls of traditional liposuction, such as reduced blood loss and the need for general anesthesia. Also known as Klein's solution, tumescent fluid is a mixture of saline solution, epinephrine, and lidocaine. When the treatment area is infiltrated with the tumescent fluid, it performs several key functions. Epinephrine constricts blood vessels to minimize blood loss, the saline causes fat cells to become engorged for more efficient fat retrieval, and lidocaine keeps the patient comfortable, enabling the use of local anesthesia.[2] Surgeons can now safely remove more fat for better results, while the addition of long-lasting lidocaine keeps the patient comfortable after their procedure is complete. 
SmartLipo
SmartLipo uses a gentle laser that liquefies fat cells.[3] The concentrated thermal energy heats adipose cells, causing them to dislodge from their connective tissues.  
VASER Liposuction
VASER liposuction has quickly become a preferred alternative to SmartLipo. VASER liposuction includes the use of high-frequency ultrasound vibrations that delicately shake fat cells loose. VASER technology lets us reach more fat cells easier, allowing for a less invasive procedure that produces enhanced results. What makes VASER unique is its ability to reach fat closer to the surface of the skin and wedged between muscles. Your abdomen, for example, may have fat in between each muscle which makes abdominal definition difficult to achieve. Diet, exercise, and even traditional liposuction are ill-suited to affect this fat. VASER's vibrations reach this stubborn tissue, allowing us to gently extract it with a cannula. So, patients leave our care with a sculpted abdominal profile.
Benefits of Advanced Techniques
By using local anesthesia and more efficient technologies, these modern liposculpture approaches result in quicker recoveries and slimmer contours that match your desired aesthetic.
Local Anesthesia
With these three techniques, we can safely rely on local anesthesia. Local anesthesia blocks only the targeted nerves from communicating with the brain, leaving the central nervous system unaffected and avoiding an altered mental state.[4] This approach lets patients remain comfortably conscious during their procedure. Also, they don't have to face the added risk or spend days recovering from anesthesia's side effects. Patients who choose a modern liposculpture technique are back to their daily routines quicker, showing off their new curves in no time!
Enhanced Results
Simply put, these techniques reach the fat that traditional liposuction can't. With merely an aspirating cannula, surgeons who perform traditional liposuction have to do multiple passes through fatty tissue to suction out the desired amount. Even then, not all the fat can be treated, leaving the patient with less-than-desirable results such as contour irregularities. Advanced liposuction techniques improve the surgeon's ability to effectively remove more fat. So, patients are left with enhanced results that are uniquely sculpted to their natural contours.
Treatable Areas
Subcutaneous fat can linger on just about any part of our physique. Modern liposculpture techniques aim to address each of these areas and give the patient slimming results from head to toe. These areas include:
Abdomen
Love handles
Thighs
Bra strap
Double Chin
Arms
Buttocks
Eligible Candidates
If you are interested in a modern liposculpture procedure, the first step is to schedule a personal consultation at our offices in Englewood. Here, we will determine if liposuction is right for you and which technique(s) would best achieve your desired results. Because of the associated risks, traditional liposuction was not suitable for many patients. However, with a local anesthetic, the range for eligible patients opens up. One main recommendation we tell patients is that it is best to be at a healthy, stable weight before your procedure. Future weight gain will affect the appearance of results. Also, we advise patients who take blood-thinning medication to speak with their healthcare provider about discontinuing during the preparation and recovery phases. Blood thinners may cause excessive bleeding and disrupt the body's natural healing process.
Personal Consultation
If this is your first time at Denver Lipo, we will begin with a brief new patient intake interview and a physical examination. We will then learn about your desired results and note your skin's elasticity. This will all help us discern which approach is best suited for you. Then, we'll construct a personalized treatment plan that addresses the areas you'd like to treat. Once we have your plan in place, we will give you a comprehensive list of preparatory steps. Follow these guidelines to ensure a smooth procedure that produces optimal results.
How Much Does Liposuction Cost Today in Denver?
The cost of your liposuction procedure will depend on the number of areas you have treated and the techniques included in your personalized treatment plan. During your initial consultation, we will discuss and determine the exact cost of your care. If you'd like to read previous patients' experiences at Denver Lipo, check out our reviews page. To see our collection of previous patients' results from advanced liposuction, take a look at our before and after page. There you will see the type of remarkable results we are committed to providing – and the type of results you can expect!
References
*RESULTS MAY VARY