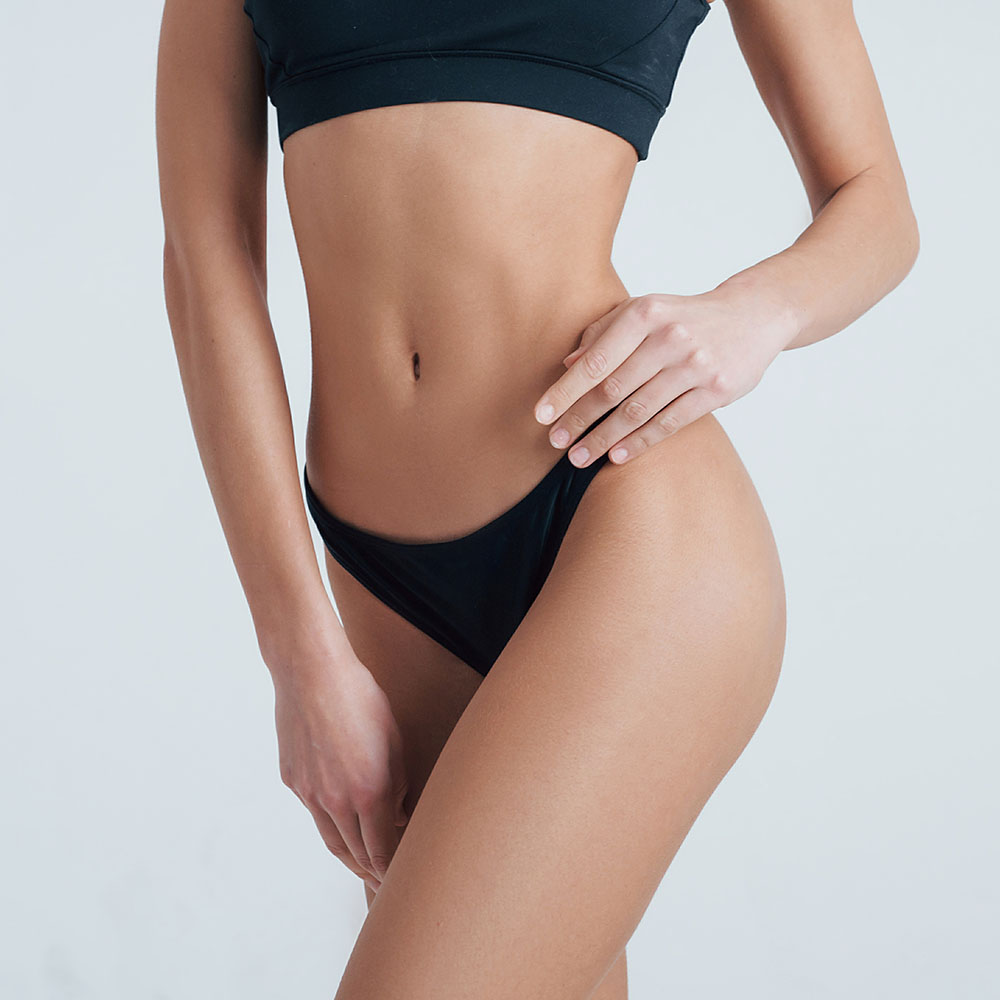 Emsculpt NEO is a revolutionary body sculpting and toning treatment that combines HIFEM (high-intensity focused electromagnetic) technology with radiofrequency waves. Each of these energy-based systems is proven effective and widely used in body contouring and other aesthetic procedures.
Now, with Emsculpt NEO, patients can take advantage of a powerful combination treatment that offers increased muscle mass and burns more fat than previously possible as well as tightening skin! This advanced, non-invasive procedure helps to firm, tone, and contour the body. If diet and exercise still aren't delivering the results you've been working hard to achieve, Emsculpt NEO might be the solution you've been looking for. It's FDA-approved to treat the:
Abdomen
Arms
Love handles
Buttocks
Calves
Thighs
Denver Liposuction Specialty Clinic is a leading authority and home to a team of experienced body sculpting experts. We're proud to be one of the first practitioners in the area to offer Emsculpt NEO. Ready to learn more? Call our Englewood offices at 720-372-2155 to schedule a complimentary consultation today. You can also fill out our convenient online form, and one of our friendly patient coordinators will be in touch shortly to get you on your way to the body you deserve.
Body Contouring with Emsculpt NEO
Today, patients that want a sculpted body without undergoing surgery have options. Advances in technology have brought us innovative energy-based systems like CoolSculpting, laser, ultrasound, and radiofrequency treatments. Electromagnetic treatments are the newest in the field, and the original Emsculpt system was introduced with great success after earning FDA approval in 2019.(1) Emsculpt NEO improves on the original treatment and uses two types of energy to help patients achieve a toned, contoured physique.
How Does High-Intensity Focused Electromagnetic Energy Work?
HIFEM energy has been used in muscle-building treatments for several decades. HIFEM energy stimulates muscle contractions, which strengthens and tones muscles. When the electromagnetic field penetrates the muscles, it creates an electrical current that stimulates motor neurons, which are the parts of your nervous system responsible for movement. But unlike regular exercise, HIFEM energy causes supramaximal muscle contractions – causing your muscles to contract more intensely than normally possible. And, with over 20,000 of these contractions occurring during a single, 30-minute HIFEM treatment session,(1) the advantages that HIFEM has over regular exercise are obvious: can you do 20,000 sit-ups or crunches in half an hour?
The Added Benefit of Radiofrequency Energy
Emsculpt NEO includes a second type of energy – radiofrequency energy. Radiofrequency waves are also able to penetrate the skin safely, but rather than stimulating the muscles, they create a thermal effect and heat the area. This gives the muscles a "warm-up" and encourages circulation. With better blood flow, muscles receive more oxygen and the other nutrients they need to develop and strengthen and can eliminate the acids that are produced during a workout and make us feel sore.(2) Not only does this lead to a more comfortable and effective treatment, but it also boosts the metabolism responsible for burning fat! Studies have shown that this winning combination can lead to a reduction in fat by up to 30%, and an increase in muscle mass by up to 25%!(2)
Benefits
If you are looking for a way to get your body into shape without surgery, downtime, or hours at the gym, Emsculpt NEO might be right for you. Unlike the original Emsculpt, Emsculpt NEO can be used on patients with a BMI of up to 35, which means more patients than ever can take advantage of this state-of-the-art technology. Some of the other many advantages of Emsculpt NEO include:
Quick treatment sessions
Ability to target specific areas
Safely and effectively targets fat and muscle
Increased strength due to an increase in muscle fiber size and density
Improved muscle tone and definition
Treatment intensity can be adjusted to ensure your comfort, and increased for ongoing results
Less fatigue and soreness following a session
Results are seen as early as 4 weeks post-treatment
Increases metabolism for long-term fat loss
No incisions, needles, or anesthesia required
No downtime
The treatment is ideal for anyone looking to improve their body contours, such as athletes, bodybuilders, and post-surgery patients. It's also a way to improve strength, which can be helpful for those recovering from injuries.
Personal Consultation
If you're considering Emsculpt NEO, the first step is to schedule a consultation at Denver Liposuction Specialty Clinic. During the appointment, we will discuss your goals and review your medical history. We'll also examine the areas that you are interested in treating. This is important for determining if you are a good candidate or whether a different treatment would be a more effective way to help you achieve your desired results. You can also ask questions about the procedure and learn more about what to expect before, during, and after your session. If you're a good candidate for Emsculpt NEO, we'll be able to recommend a customized treatment plan tailored to your individual needs.
To book a one-on-one appointment, call our office at 720-372-2155. Or, just fill out our contact form and one of our staff members will be in touch.
Procedure
Emsculpt NEO treatment sessions only take about 30 minutes and are performed in the comfort of our office. During the session, you'll lounge in a private treatment room and the applicator will be placed on the treatment area. You'll feel a warm, pulsing sensation in the treatment area as the targeted muscles contract rapidly. The energy levels can be adjusted according to your needs so that you stay comfortable, and the treatment is effective.
As you relax, Emsculpt NEO will be hard at work. The HIFEM energy causes contractions in the targeted muscles, which helps to increase muscle tone and definition. The radio frequency energy will boost metabolic activity, helping to reduce stubborn fat deposits and increase collagen production, tightening skin. We recommend four to six regularly scheduled sessions for optimal results.
Recovery & Results
After an Emsculpt NEO session, most patients return to their normal activities right away. There is no downtime needed and you can resume strenuous activities when you feel ready. However, it is best to wait 24 hours before engaging in any vigorous physical activities.
Depending on your physique, it may take several sessions before you can see a noticeable difference. But, just know that as you jump back into your daily routine, your body is hard at work, eliminating damaged fat cells, and producing strong, new muscle fibers in the treated areas.
After you've completed your Emsculpt NEO treatment plan, you'll be able to look forward to improved muscle strength and definition, tighter, firmer skin, and a slimmer, more toned physique.
How Much Does Emsculpt NEO Cost in Denver?
At Denver Lipo, we believe that every patient deserves to have all the information they need to make an informed decision about their treatment options, which is why we offer free consultations. We also offer discounted packages of treatments, so that you can make your dream body a reality!
Pricing & Packages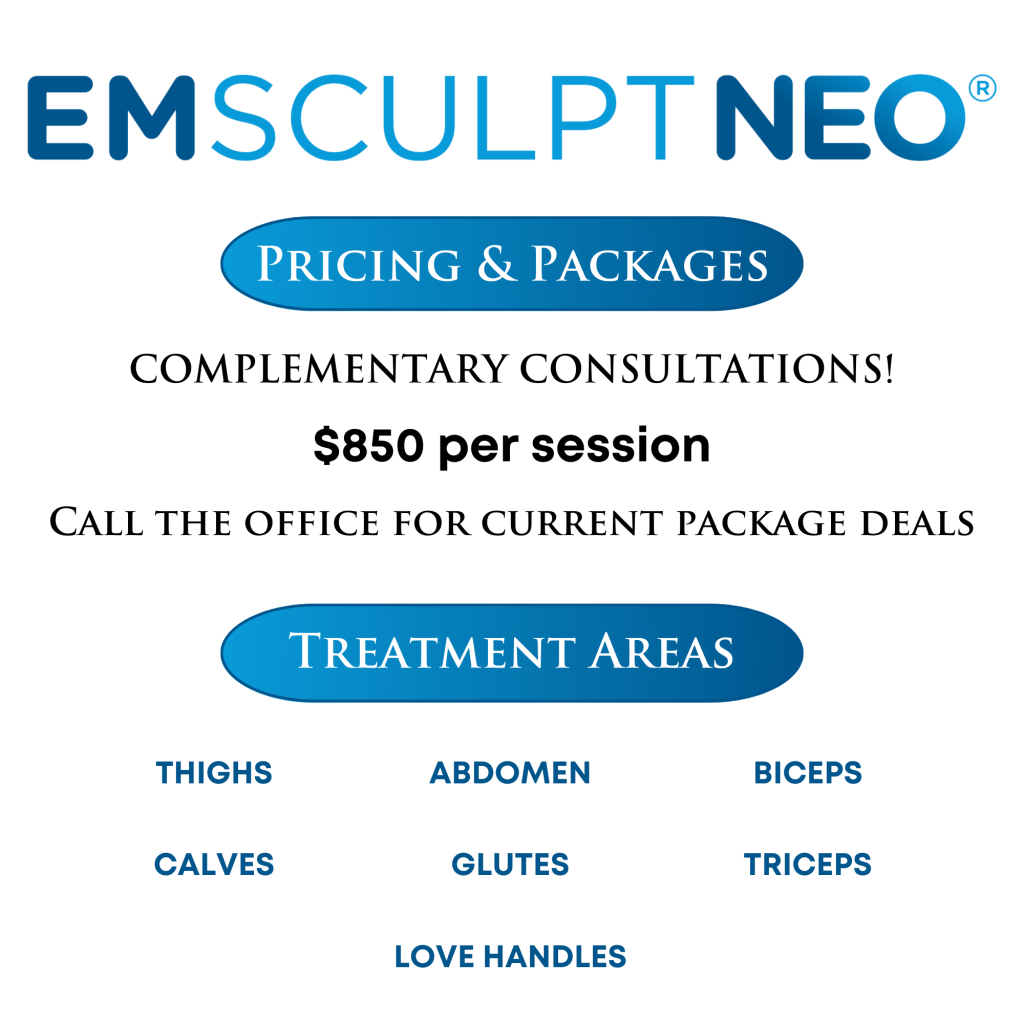 If you would like to learn more about Emsculpt NEO, please call 720-372-2155 to schedule a consultation at our Englewood office. We look forward to meeting you and helping you achieve your aesthetic goals.
FAQ
Is Emsculpt NEO safe?
Yes, Emsculpt NEO is a safe and effective body contouring procedure. It has been approved by the FDA and there have been no reports of serious side effects.
Is Emsculpt NEO right for me?
Emsculpt NEO is ideal for those who are looking for a non-invasive way to achieve a slimmer, more toned physique. It is typically recommended for those with stubborn fat deposits that won't respond to diet and exercise alone. And, because of its ability to tighten skin, it's an excellent way to achieve a rejuvenated appearance and highlight defined muscles.
How many treatments are needed?
However, some may benefit from additional sessions to achieve their desired outcome.
What are some alternatives to Emsculpt NEO?
Emsculpt NEO is one of the most advanced non-invasive treatments available for body contouring. However, may not meet every patient's needs. Healthy patients with larger amounts of unwanted body fat or excess skin may be better suited to a surgical procedure. Liposuction can offer more immediate results and a long-term solution for fat removal. Surgeries like abdominoplasties, arm lifts, and thigh lifts are typically recommended for patients with significant amounts of loose, sagging, skin. 
How much does Emsculpt NEO cost?
The cost of Emsculpt NEO will vary depending on the size and number of the areas being treated and the number of sessions needed to reach the desired results. You will be provided with an accurate estimate for the price of your procedure after your personal consultation.
References
Swanson E. A Systematic Review of Electromagnetic Treatments for Body Contouring. Ann Plast Surg. 2023;90(2):180-188. doi:10.1097/SAP.0000000000003387
Robert Weiss, M. D., M. D. Brian Kinney, and M. D. Carolyn Jacob. "Emsculpt NEO Simultaneous emission of novel Synchronized Radiofrequency and HIFEM (magnetic fields) in a single applicator for fat elimination and muscle building." Retrieved 1/15/2021 from https://351face.com/wp-content/uploads/2020/11/Emsculpt_neo_CLIN_Mechanism-of-action-paper-full_ENUS100.pdf