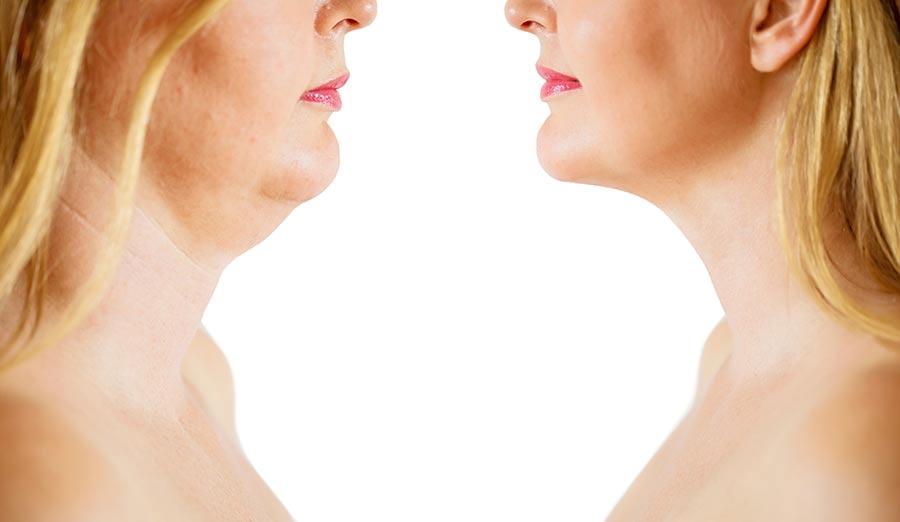 Liposuction of the chin and jawline is a popular procedure to improve the appearance of the face. The chin and jawline are common areas of concern for both men and women who are unhappy with their profile. Liposuction can create a more defined jawline and sharper chin, giving you a more youthful appearance. Even if you aren't experiencing the signs of aging elsewhere and are in good shape, a double chin or jowls can make you look much older and heavier than you actually are.
Liposuction is a very safe and effective procedure when performed by an experienced surgeon. In fact, the procedure has risen to become the second most popular in the United States. [1] At Denver Liposuction Speciality Clinic, we provide this popular procedure for the chin, neck, and jawline to patients, and have been performing liposuction since 2007. If you want a surefire way to reduce the appearance of a double chin or jowls, contact us today to schedule your free consultation. In Englewood, CO, and the greater Denver area, reach us at (720) 372-2155 or fill out our contact form to start the process.Shortcode
Fat Accumulation
As we age, we can start to accumulate fat in areas that we never had to worry about when we were younger. And, as early as our 20s and 30s, fatty tissue can accumulate in the chin, neck, and lower face. In addition, the skin loses its elasticity and the underlying tissues start to sag. When this happens, it can create the appearance of a double chin or jowls. This can be particularly bothersome for those who are in their 40s, 50s, and 60s, as it can make them look much older than they actually are.
But how to get rid of this unsightly fat? Unfortunately, even with dieting and exercising, it is difficult to get rid of or reduce fat deposits. And with the chin and jawline, weight loss often doesn't make much difference. Liposuction surgery on the chin and neck area can greatly improve these areas resulting in boosted confidence and a feeling of youthfulness.
The Spot Reduction Myth
You may have tried diet and exercise unsuccessfully to improve your appearance in certain areas of the body that are notoriously difficult to change. Unfortunately, spot reduction is a myth. No matter how much you diet or exercise, you cannot target specific areas of the body for fat loss. This is where liposuction comes in.
Liposuction surgery can help to improve your appearance by removing excess fat from the chin and jawline area. And the best part? The results are permanent! Once the fat cells are removed from your body, they will not return.
What is Liposuction?
Liposuction dates back to 1921, but the modern liposuction technique was developed in 1974 by two Italian plastic surgeons. In the United States, the first liposuction surgery was performed in 1982. [1]
Liposuction is also known as suction lipectomy or lipoplasty. The procedure involves making small incisions in the skin and then inserting a small tube, called a cannula, which is connected to a vacuum. The surgeon then moves the cannula back and forth to break up the fat cells and suction them out of the body.
Liposuction can be performed on many different areas of the body, including the:
Liposuction can be performed alone or in combination with other cosmetic procedures, such as a fat transfer.
Types of Liposuction
There are a few liposuction technology and techniques we use at Denver Lipo: 
Tumescent Liposuction – Tumescent liposuction is the most common type of liposuction performed today, and forms the basis for other more advanced energy-based liposuction techniques. Before the fat is suctioned away, tumescent fluid is injected into the area where the fat will be removed. Tumescent fluid is made up of lidocaine, epinephrine, and saline, which numbs the area, shrink the blood vessels, and makes fat easier to remove.
What are the Benefits of Liposuction of the Chin and Jawline?
There are many benefits of having liposuction surgery on the chin and jawline. These benefits include:
A more youthful appearance – One of the most common reasons why people choose to have liposuction surgery is because it can help to give them look and feel more invigorated and toned. As we age, our skin loses elasticity, and fat deposits can become more visible, especially in the chin and jawline areas.
A more defined jawline – Another benefit of liposuction surgery is that it can help to give you a more defined jawline. Men want that chiseled jaw associated with masculinity and women want smoother, more refined facial contours. Liposuction surgery can remove this excess fat and give you a more defined jawline and improve the appearance of a weak chin.
A more slender appearance – If you are unhappy with your overall appearance, liposuction surgery can help to give you a more slender appearance. You'd be surprised how much slimmer you look just by treating the chin and jawline!
A boost in self-confidence – One of the most common benefits of any type of cosmetic surgery is a boost in self-confidence. When you look good, you feel good. Liposuction surgery can help to improve your appearance and give you that wonderful boost.
Ideal Candidates for Chin and Jawline Liposuction
The best candidates for chin and jawline liposuction are those who are unhappy with the appearance of their chin and jawline. Good candidates for this type of surgery should be in good overall health and have realistic expectations for the results of surgery. Patients seek out liposuction for various reasons and we are equipped to address cosmetic liposuction goals.
Personal Consultation
Before you decide to have chin and jawline liposuction, it is important to schedule a personal consultation with a liposuction expert. During your consultation, we will examine your chin and jawline and ask you about your goals for surgery. They will also discuss the risks and benefits of this surgery with you. It is important to make sure that you are comfortable with your surgeon and that you have a good understanding of the surgery before you make a decision.
If you are interested in learning more about chin and jawline liposuction, we invite you to schedule a personal consultation with Denver Lipo. We have a team of surgeons who specialize in liposuction and we will work with you to ensure that you are happy with your results. Contact us today to schedule a consultation.
Preparation for Liposuction Surgery
Once you have decided to have surgery, there are a few things that you will need to do to prepare for your procedure. These steps include:
Stop smoking – If you are a smoker, you will need to stop smoking at least two weeks before your surgery. Smoking can cause complications during surgery and can slow down the healing process.
Avoid taking certain medications – There are certain medications that can increase the risk of bleeding during surgery. These medications include aspirin, ibuprofen, and other blood-thinning medications. You will need to avoid these medications for at least two weeks before your surgery.
Get a good night's sleep – It is important to get a good night's sleep before your surgery; this will help you to feel relaxed and ready for your procedure.
Stay hydrated – Hydration is an important part of recovery and you want to start off on the right track.
How is Chin and Jawline Liposuction Performed?
On the day of your surgery, arrive at your scheduled time so we can begin the process of checking you in. There is no need to be nervous, but if you are, we will do everything we can to set you at ease. Depending on your treatment plan, the entire process will take about 1 hour per area being treated.
We will start by ensuring your comfort with anesthesia and the necessary medications. After numbing the targeted area below your jawline and chin, we'll infiltrate the area with tumescent fluid. Depending on the areas of your jawline that you'd like to treat, small incisions will be made either behind the ears or under the chin. The incision line will be so small that it will be barely visible when it heals.
Next, we will begin suctioning out any excess fat. During this time, we take care in paying attention to how much fat needs removed in order to create your most natural-looking results that complement your features.
After removing all the excess fat (for good!), we'll apply dressings to the incisions and wrap your head and chin in a compression strap to ensure proper healing.
Recovery from Liposuction Surgery
Please wear the compression strap provided and take any prescribed pain medication as required until otherwise directed by your surgeon. Even so, you may still experience swelling and bruising after the procedure – this is normal and will resolve on its own.
Results of Liposuction Surgery
Around a week after surgery, patients may begin to notice changes in their appearance. The final results of chin liposuction can be seen 3-6 months later.
You will notice a reduction in the fullness of your chin and jawline. The results of your surgery will continue to improve as the swelling subsides.
Most people are very happy with the results of their surgery. The results are long-lasting and can give you a renewed passion for life.
What is the Cost of Chin and Jawline Liposuction in Colorado?
The cost of chin and jawline liposuction will vary depending on the extent of your surgery. To find out more, contact our office to schedule a consultation. We will answer all of your questions and help you to decide if this is the right procedure for you and then work with you to create a treatment plan that fits your budget.
Call (720) 372-2155 or fill out our contact form to get started!
References
Bellini E, Grieco MP, Raposio E. A journey through liposuction and liposculture: Review. Annals of Medicine and Surgery. 2017;24:53-60. doi:10.1016/j.amsu.2017.10.024
HOYOS A, MILLARD J. VASER-assisted high-definition liposculpture. Aesthetic Surgery Journal. 2007;27(6):594-604. doi:10.1016/j.asj.2007.08.007