Submental liposuction, commonly known as chin liposuction, is a safe, straightforward cosmetic surgery procedure to reduce fat in the area below the chin to restore a more defined profile contour. As the structural integrity of our face and neck tissues declines over time, or if we gain weight, our jawlines can become less pronounced and less finely contoured, often resulting in a so-called "double chin." Chin liposuction can eliminate a double chin, and can also improve sagging jowls and excess fat deposits in the lower jawline.
Localized fat deposits under the chin can be an annoyance and, in some cases, can cause anguish, especially when we feel we have exhausted our options to improve them. Although they are generally associated with older men and women, they can even start to appear as early as our twenties. Some patients may attempt to reduce these fat deposits by adopting healthier habits, or even attempting to perform daily jaw exercises. But these efforts, although well-intentioned, may not achieve the aesthetic results we desire. However, a straightforward chin liposuction procedure can address this issue, and reinstate a more youthful chin contour.
The surgeons at Denver Liposuction Specialty Clinic have your aesthetic desires in mind! At our state-of-the-art Englewood location you can receive a chin liposuction treatment that can revitalize your contours and restore your confidence. Call us now at (720) 372-2155 to find out if a chin liposuction procedure is right for you. Or, fill out a simple online inquiry form to connect with us regarding your future treatment.
About Chin Liposuction
Unfortunately, for many people, an unsightly double chin is a very noticeable feature. This can become more prominent over time and a challenging cosmetic feature to resolve without surgical intervention. As the most commonly performed cosmetic procedure in Western countries, and the second most common cosmetic surgery in the United States, (1)(2) liposuction has a superb track record in helping patients reach their cosmetic goals. Chin liposuction is just one of an array of liposuction procedures that can be performed throughout the body to reduce fat, smooth contours, and produce long-lasting aesthetic results.
Why Do We Get a Double Chin?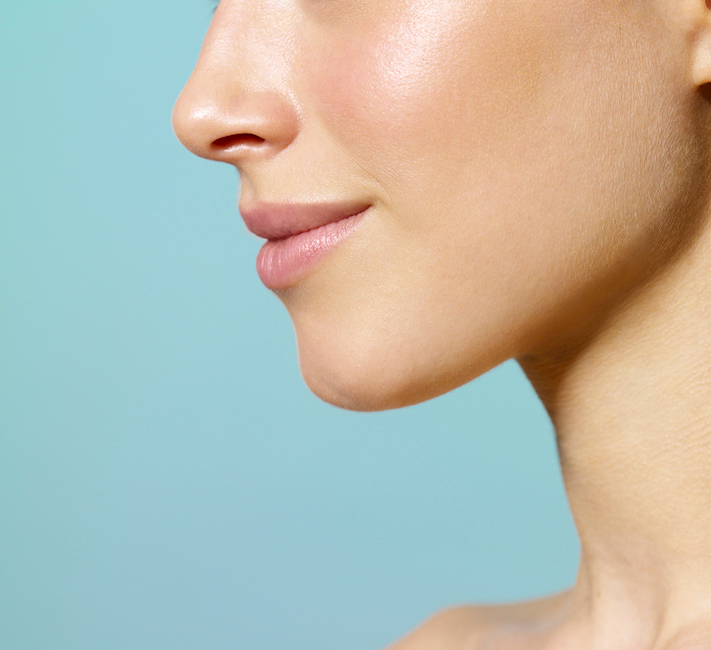 In a 2014 survey conducted by the American Society for Dermatologic Surgery, almost 70% of respondents were bothered by excess fat under the chin and neck. (3) That's a staggering seven in ten people! But what causes this commonly occurring cosmetic issue? Surprisingly, the answer isn't always an increase in weight. Submental fat can develop for a number of other reasons, including:
Age-related tissue change
Genetic factors
Health conditions (e.g. hypothyroidism)
Skin laxity
Poor head and neck posture
Muscle loss in the jaw
What's Involved in Chin Liposuction?
Tumescent Liposuction – A double chin can be addressed with tumescent liposuction, a fat removal technique that employs the use of a substance called tumescent fluid. Tumescent fluid is a blend of solutions that make surgical procedures easier to perform and more comfortable for patients. The use of tumescent fluid in this type of procedure optimizes fat extraction for a more streamlined, effective surgery.
SmartLipo – SmartLipo is laser-assisted liposuction and is one of the best, and longest-lasting ways to correct a double chin. With the use of the SmartLipo Triplex laser, chin liposuction can contour and remove fat cells in the submental area while simultaneously tightening skin in the treated area. It allows the doctor to expertly balance the subtleties of your facial features, reducing the appearance of loose skin, and restoring a more youthful silhouette.
Oral Sedation – Unlike some other more complex liposuction procedures, chin liposuction is not usually performed under general anesthetic. Instead, a combination of numbing agents are used to ensure patient comfort. This ensures the patient is relaxed during the procedure, but remains conscious, and avoids the risks associated with general anesthesia.
Cannula – Liposuction removes fat with a thin, probe-like device called a cannula. The cannula is a hollow metal tube that is used to gently suction fat from the treatment area. A skilled plastic surgeon can expertly apply the correct amount of pressure to ensure even fat removal from the correct tissue depth.
Benefits of Chin Liposuction
There are many aesthetic benefits of chin liposuction, which include:
Removal of the "double chin"
A slimmer chin and neck silhouette
A better-defined jawline
Minimally invasive procedure
Little to no scarring
Minimal post-surgery downtime
Long-lasting results
Can improve self-image
Contact us today to book your personal chin liposuction consultation with a member of one of Colorado's leading cosmetic plastic surgery teams! Call our Englewood office at (720) 372-2155 to reach our front desk directly.
Candidates
Candidates for any liposuction procedure are men and women who are in good general health who wish to address their submental fat through surgical means. If you have struggled to reduce the appearance of your double chin through other means, a chin liposuction treatment could be the surgery for you! If you are currently on a weight-loss journey, our surgeons require that you should be at, or near, your ideal weight at the time of your surgery. It should be stressed that any liposuction treatment is a cosmetic procedure, not a weight-loss procedure, and is not intended as a substitute for weight-loss surgery. Liposuction may not be a good fit for patients who:
Have cardiovascular disease
Have pulmonary disease
Have a blood clotting disorder
Have poor skin quality in the area for treatment
Have uncontrolled diabetes
Are pregnant
Personal Consultation
Your personal consultation with one of our top plastic surgeons is an opportunity for you to explain your cosmetic requirements to us in a private setting. During the one-on-one session, we will discuss your current chin contour, skin laxity, and the desired cosmetic goals you wish to achieve. We may document your current features from various angles so post-surgical comparisons of contour improvements can be drawn. If you are a good fit, we will select the liposuction type that best suits your circumstances and allocate a date and time for your procedure.
Preparation
To prepare for your chin liposuction procedure, please follow these guidelines:
Obtain lab testing or a medical evaluation prior to your treatment.
Take/adjust certain medications according to your surgeon's recommendations.
Stop smoking and any use of nicotine products before and after surgery.
Do not take aspirin, NSAIDs, or certain supplements which can increase bleeding.
Chin Liposuction Procedure
On your surgery date, we will begin by administering lidocaine, a local numbing agent, into the targeted tissues below the chin so you are comfortable for the duration of the procedure. Once the area is fully numbed, we will then make a small incision into the tissue, to allow insertion of the cannula and suction to begin. At this time, we pay particular attention to the natural contour of your chin and ensure the amount of fat removed will produce natural-looking results.
Depending on your individual treatment plan, this process can take between one and two hours to complete. Once all of the excess fat has been removed with the cannula, we carefully suture the area shut and place a specially designed compression garment under your chin and around your head for secure healing.
After Your Procedure
After your procedure, you may experience swelling and bruising for about 2 weeks. Some patients choose to arrange time off from work for a few days during this period. Please wear the compression strap provided and take any prescribed pain medication as required until otherwise directed by your surgeon. If you receive SmartLipo laser treatment, it will help to tighten skin for 2-3 months after the procedure. After around a week, you may begin to notice the difference your surgery has made. The final results of your chin liposuction can be seen anywhere from 3-6 months after the procedure.
Cost of Chin Liposuction in Denver
At Denver Liposuction, we believe in honest, transparent pricing. There are no hidden costs. Depending on your circumstances, the cost of your chin liposuction procedure may vary, but for a clearer understanding of our pricing system, and for financing options, please visit our website.
You can also read more about the wide variety of liposuction and body sculpting procedures available at Denver Liposuction Specialty Clinic by visiting our blog, and following us on our Facebook and Instagram!
FAQ
Does chin liposuction last longer than Kybella for a double chin?
Liposuction permanently removes fat cells through suction, whereas Kybella is an injectable treatment that helps the body break down fat. Many surgeons favor liposuction to remove submental fat deposits as it's a one-time treatment that achieves effective results.
Does chin liposuction require general anesthesia?
Usually, surgeons perform chin liposuction procedures using local anesthesia and sedation, avoiding the side-effects of general anesthesia and resulting in a shorter initial recovery period.
If I gain weight after my chin liposuction, will my double chin come back?
Everybody responds to weight gain in different ways. Usually, if there is only moderate weight gain (around 10lb) there are no significant aesthetic changes to the treated area, however, significant weight gain may have adverse effects on your chin liposuction results.
References
A journey through liposuction and liposculpture: Review. (2017). Annals of Medicine and Surgery, 24, 53–60. https://doi.org/10.1016/j.amsu.2017.10.024
Wu, S., Coombs, D. M., & Gurunian, R. (2020). Liposuction: Concepts, safety, and techniques in body-contouring surgery. Cleveland Clinic Journal of Medicine, 87(6), 367–375. https://doi.org/10.3949/ccjm.87a.19097
Shah, G. M., Greenberg, J. N., Tanzi, E. L., & Monheit, G. D. (2017). Noninvasive approach to treatment of submental fullness. Seminars in Cutaneous Medicine and Surgery, 36(4), 164–169. https://doi.org/10.12788/j.sder.2017.040