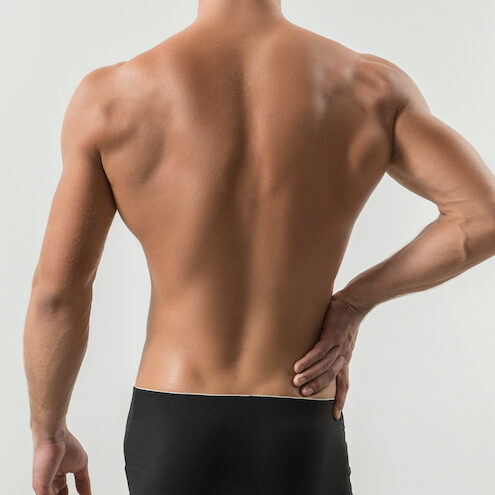 Liposuction for the back is a minimally-invasive procedure that produces a well-defined, aesthetically pleasing back contour for men and women. Women will delight at the hourglass figure and beautifully curved spine that will dramatically improve the look of body-con, form-fitting clothing. Conversely, men can enjoy the V-cut that increases the breadth of the shoulders. Unfortunately, many patients find that the upper back from the neck down along the shoulder blades is a perfect place for the body to store excess fat. These bulges of fat can create an unsightly "buffalo hump" in the back of the neck area or "back rolls" along the bra line. Back Liposuction can quickly correct these unsightly pockets of fat.
At Denver Liposuction Specialty Clinic, liposuction is our specialty. Patients in the Denver and greater Colorado area will find that we provide an extensive selection of liposuction procedures focusing on pockets of fat throughout the body. Liposuction can target the fat that refuses to budge after months in the gym. Why struggle? Book your back liposuction with us, and see the results you thought were a fantasy. Are you ready to show off your beautiful back? Call us at (720) 372-2155 or fill out this form, and we will be in touch.
Bring Sexy Back
For decades, liposuction has been a leading body contouring technique surgeons have used to remove unwanted fat. Liposuction is minimally invasive because a thin hollow tube is inserted below the skin to reach the subcutaneous fat layer. This layer of fat is tough to remove with diet and exercise. [1] The best way to remove subcutaneous fat is through a cosmetic procedure like liposuction. Lipo helps patients remove small pockets of fat that cause uneven, unappealing contours and hide the muscle definition you worked hard to achieve. Patients can choose to treat specific parts of their back, like the upper or middle back only, or both. The lower back can also be treated as part of a Lipo 360 procedure, giving you a complete reshape of your torso.
The Tumescent Technique
The tumescent technique eliminates the need for general anesthesia and hospital stays. The procedure also reduces the risk of bleeding complications. [2] At Denver Liposuction, we offer different methods of tumescent liposuction to help you slim down and look your best!
Tumescent Liposuction in Denver, CO
Most forms of liposuction performed today utilize tumescent fluid. Also known as Klein's solution, it contains lidocaine, epinephrine, and saline. Before the fat is suctioned away, the treatment area is infiltrated with the tumescent solution to anesthetize, the area, minimize bleeding, and to make the fat easier to remove. This provides longer-lasting local anesthesia and blood vessel constriction. The loosened fat is easily removed, and the treatment area becomes beautifully contoured.
VASERlipo in Denver, CO
The energy in VASERlipo targets the cells that store fat. The energy produced by the cannula – high-frequency sound waves – agitates the tumescent fluid, breaking the fat cell's walls and causing the release of the contents into the intercellular space. This creates a fatty emulsion, which is easily extracted from the subcutaneous area by low-vacuum suction. [3]
No matter which liposuction procedure you choose, the doctor will begin by numbing the area with a local anesthetic. The days of general anesthesia and expensive hospital stays are long gone, just shortened recovery time and increased safety.
Benefits of Liposuction for the Back
The top selling point of liposuction is the complete removal of fat cells from the targeted area – once the cells are gone, they won't return. With our tumescent liposuction procedures, adipose tissue that you can't burn off at the gym is easily removed using advanced technology. Additionally, our liposuction for the back has reduced recovery times and risk. A sleek, sexy back is just a phone call away! Reach out to us to schedule your consultation. Patients in Denver and the surrounding areas can call (720) 372-2155 or fill out this form, and we will call you back shortly.
Ideal Candidates for Liposuction
Back liposuction is suggested as part of a program to regain the shape of your upper torso. Liposuction cannot replace a proper diet and exercise program and cannot build muscle, nor is it a solution for weight loss. Cosmetic surgery aims to enhance your features and remove fat you cannot burn off through aerobic exertion. During your consultation, we will go over the projected outcomes of your procedure and the realistic expectations you should have.
To determine if you're a good candidate for back liposuction, ask yourself:
Am I in good health?
Am I at my ideal weight or close?
Does my skin have good elasticity so it will conform to my contours after liposuction?
Am I able to follow all of my doctor's recommendations after my procedure?
After my consultation, do I have realistic expectations of what liposuction can achieve for me?
If you answered yes to these questions, you are probably a good candidate for liposuction surgery. Additionally, patients should not be smokers and should have the proper time to recover and have help from friends and family.
Personal Consultation in Englewood
During your consultation, our dedicated staff will answer your questions and ensure you completely understand what liposuction for the back procedure entails. After taking your medical history, we will give you a thorough exam to determine your candidacy for treatment. During your consultation, you can look at before and after photos to better understand what liposuction for the back can do for you. Make sure to compare the characteristics of the before pictures with your own body to get a better idea of what your transformation can look like.
Preparation for Treatment
To get ready for the day of your procedure, you should:
Stop taking blood thinners and cease tobacco use as recommended before treatment.
Fill your prescriptions, and be sure to bring them with you to your procedure.
Arrange for a friend or family member to get you home after your procedure.
Have someone spend the first night or two after surgery with you.
Pick loose clothing to wear; a button-up top will make changing more effortless and comfortable.
Recovery from Liposuction
Your downtime following back liposuction will be minimal. Many of our patients are surprised that they can return to normal activities the following day. We recommend that you plan to take three to five days off from work or school (including the day of surgery) to allow your body to heal. The best advice is to listen to your body and your doctor to ensure you are well cared for and able to recover successfully.
Results of Liposuction
Back liposuction can help you eliminate unsightly rolls around the bra area and the "buffalo hump" that causes an unpleasant silhouette. Your Denver Liposuction surgeon can remove localized fat deposits that keep you from looking slim and curvy. Removing these fat rolls and bulges will give dramatic yet natural-looking results. Your back will look more sculpted, making you look more fit and youthful.
Unfortunately, back liposuction will not provide acceptable results to patients struggling with obesity because the skinfold may be too large around the treatment area to contour adequately. In cases of severe obesity, it is best to consult a bariatric specialist and develop an individualized treatment plan.
Corresponding & Complementary Procedures
Increase and firm your buttocks while defining the sexy curves of your backside. Some patients choose to have a Brazilian Butt Lift procedure along with their back liposuction because the fat cells removed from the back can be processed and grafted (injected) into the buttock for the BBL effect.
What is the Cost of Liposuction in Denver?
Your initial consultation is free. It allows you to meet with a trained coordinatory and have your questions answered. You will leave feeling comfortable and confident that Denver Liposuction is the right place for your aesthetic enhancement.
At Denver Liposuction, you can always count on straightforward, transparent pricing. Your price quote is all-inclusive, with no hidden fees, and this quoted price covers:
A facility fee
All operative anesthesia and medicine fees while at our clinic for your procedure
The procedure
Your compression garment
Post-operative lymphatic drainage massage
All follow-up visits
Can I Get Financing for Back Liposuction?
You want a slimmer, sexier back, but we understand it can be challenging to pay for liposuction. So don't wait to reshape your body and feel better when you look in the mirror – we offer options from reputable finance companies. Additionally, we can set up a monthly payment plan that makes your aesthetic dreams easy and affordable. Patients in Denver and the surrounding areas can call (720) 372-2155 or fill out this form, and we will call you back!
References
Chait, A., & den Hartigh, L. J. (2020). Adipose Tissue Distribution, Inflammation, and Its Metabolic Consequences, Including Diabetes and Cardiovascular Disease. Frontiers in cardiovascular medicine, 7, 22. https://doi.org/10.3389/fcvm.2020.00022
Parlette EC, Kaminer ME. Laser-Assisted Liposuction: Here's the Skinny. Seminars in Cutaneous Medicine and Surgery. 2008;27(4):259-263. doi:10.1016/j.sder.2008.09.002
Troilius C. Ultrasound-assisted lipoplasty: Is it really safe? Aesthetic Plastic Surgery. 1999;23(5):307-311. doi:10.1007/s002669900290