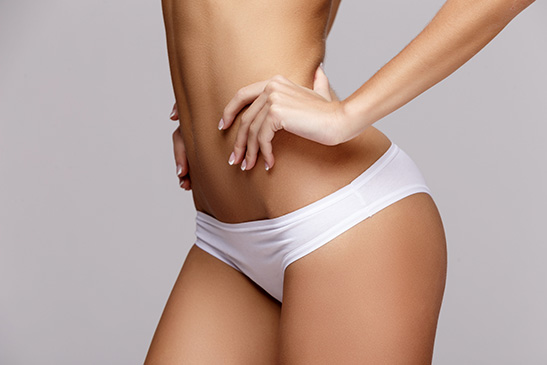 Awake liposuction is a popular alternative to general anesthesia used in over half of the procedures at Denver Liposuction Specialty Clinic. Many patients experience unwanted side effects from general anesthesia such as nausea and constipation. What's more, the recovery process usually takes longer, meaning patients must remain at home for a week or more.
With awake liposuction, patients can return to their normal routine faster, without the discomfort and side effects of general anesthesia. Additionally, awake liposuction is a more cost-effective option, making the treatment accessible to a greater number of patients.
If you are looking to enhance your body contours and eliminate stubborn pockets of fat, awake liposuction at Denver Liposuction Specialty Clinic may be the perfect solution for you. Our dedicated team is committed to providing personalized care and delivering exceptional results.
Rediscover your confidence and achieve the body you've always desired with awake liposuction. To learn more, contact us at (720) 372-2155, use our online inquiry form, or visit our conveniently located Englewood clinic. 
Stay up to date with the latest in lipo by reading the Denver Liposuction Specialty Clinic blog.
About Anesthesia
Anesthesia plays a crucial role in ensuring the safety, comfort, and success of surgical procedures. Different types can be utilized, depending on the procedure's nature and the patient's individual needs.
General Anesthesia: General anesthesia involves the administration of medication to induce a state of unconsciousness. The patient is completely unaware and free from any sensation or discomfort during the surgery.
Local Anesthesia: Local anesthesia involves the injection of medication into a specific area of the body to numb it. The patient remains awake and alert during the surgery while experiencing minimal pain or discomfort. As an example, lidocaine, one of the components of liposuction anesthesia, has effective local anesthetic attributes. (1)
Regional Anesthesia: Regional anesthesia is another technique that can be employed, targeting a larger region of the body. This involves injecting medication near major nerves to block sensations in a specific area. It allows patients to remain conscious while numbing a larger area, such as an entire limb or the lower half of the body.
Awake Lipo & Fat Transfer Procedures
At Denver Liposuction Speciality Clinic, we perform awake liposuction on multiple parts of the body, including the following.
Our awake method is suitable for patients looking to treat up to three areas of their body in one procedure.
How is Awake Anesthesia Different?
Awake anesthesia liposuction techniques ensure patient comfort during the procedure and a swift, effective recovery. It combines three main components.
Medication for Relaxation
Prior to your procedure, we will invite you to sit in one of our luxurious massage chairs and administer medications for relaxation and pain management.
You will experience a calm, comforting environment while you wait for the medication to take effect. When they do, we will prepare you for your liposuction surgery.
The Tumescent Technique
The key to awake liposuction lies in the tumescent technique. A specialized solution consisting of saline, lidocaine, and epinephrine is injected into the targeted areas, causing the fat cells to swell and become easier to remove. The lidocaine ensures that the procedure is virtually painless, while the epinephrine helps minimize bleeding and bruising.
Pro-Nox
ProNox is a patient-controlled inhaled analgesic (50% oxygen, 50% nitrous analgesic) that provides both anxiety relief and conscious sedation. As the patient inhales the nitrous oxide through a small mask, they will begin to experience a sense of relaxation and euphoria. This allows them to remain fully conscious and responsive throughout the procedure while enjoying a heightened state of comfort.
Safety is of utmost importance, and ProNox excels in this aspect. It is considered safe and well-tolerated, minimizing the risk of adverse effects or complications. Furthermore, ProNox has a short half-life, meaning its effects wear off quickly after discontinuation. (2) Patients can confidently resume their daily activities without any lingering effects from the treatment.
Benefits of Awake Liposuction
Real-Time Communication
One of the significant advantages of awake liposuction is the ability to have a dialogue with your surgeon throughout the procedure. Being awake allows you to provide real-time feedback, ensuring that your surgeon achieves the desired results.
Fewer Side-Effects
General anesthesia is known for its somewhat uncomfortable side effects such as nausea and constipation. It can also leave patients feeling disoriented for more than just a few minutes after a procedure. With awake anesthesia, patients can avoid discomfort and get back to their normal routine soon after their surgery.
Faster Recovery
Recovery from awake liposuction is typically faster compared to traditional liposuction techniques. Most patients can return to their normal activities within a few days, with minimal discomfort and swelling. We provide comprehensive post-operative care instructions to optimize your healing process and ensure long-lasting results.
Less Costly
General anesthesia expenses can be prohibitive for many individuals. Awake liposuction gives patients a more cost-effective treatment option that might otherwise be unavailable in other circumstances.
Customizable Care
At Denver Liposuction Specialty Clinic, we understand that each patient has unique goals and concerns. Our team will work closely with you to develop a personalized treatment plan tailored to your individual needs, ensuring optimal results.
Transform your body and regain confidence with awake liposuction at Denver Liposuction Specialty Clinic. Our knowledgeable team is here to guide you through every step of the process, delivering exceptional results that enhance your natural beauty. Contact us today at (720) 372-2155 to schedule your consultation with one of our patient care coordinators.
Candidates for Awake Liposuction
Awake liposuction is an effective method for targeting multiple areas of the body in one session, including the abdomen, thighs, hips, arms, and back, where pockets of fat may be resistant to traditional weight loss methods. Candidates for awake liposuction are individuals looking to address 1-3 areas of stubborn fat and achieve a more sculpted body contour. It is particularly suitable for busy individuals who have tried non-surgical alternatives, such as diet and exercise but have been unable to achieve their desired results.
Special Circumstances
In some cases, the awake method may not be the most effective. This is particularly relevant for certain demographics, as some patients do not numb well. We will recommend general anesthesia in the following circumstances.
Patients who have experienced numbing issues at the dentist
Very nervous patients and patients who have a diagnosed anxiety disorder
Patients with prior or present opioid use
Patients whose hair is naturally red/auburn
During your consultation, we will take the time to thoroughly discuss your goals and concerns and assess your unique anatomy and medical history.
Personal Consultation
A personal consultation at Denver Liposuction Specialty Clinic is the crucial first step in determining if awake liposuction is the right procedure for you. During this consultation, you will have the opportunity to meet with one of our patient care coordinators. Driven by a passion for body contouring and equipped with extensive knowledge and expertise, our liposuction specialists are dedicated to helping you achieve your desired results.
Liposuction and More
At our clinic, we prioritize patient education and ensure that you are fully informed before embarking on your transformative journey toward a more contoured and confident you.
We understand that each individual is different, which is why we offer a range of body contouring options beyond liposuction. These procedures include fat transfer, Brazilian Butt Lift, and its male equivalent, the "Bro-Zillian" Butt Lift. We can guide you through alternative procedures or combination treatments that may be more suitable for achieving your desired outcome.
We invite you to schedule your personal consultation with Denver Liposuction Specialty Clinic today. It is an opportunity to have all your questions answered and gain a comprehensive understanding of the awake liposuction procedure and its potential benefits.
Cost of Awake Liposuction in Denver
The cost of your treatment will be highly dependent on your personal treatment plan. For more information, and to book your personal consultation with one of our experienced team members, simply call our office at (720) 372-2155 or complete a form on our website for further details. 
FAQ
Which is better, general anesthesia or local?
The type of anesthesia you choose depends on the procedure you are undergoing, your personal preferences, and the advice of your doctor. In cases where a patient does not numb well, general anesthesia may be better suited to their needs. Where a patient desires a faster recovery with fewer side effects, the surgeon may recommend local anesthesia or awake anesthesia.
Why is general anesthesia so expensive?
The cost of general anesthesia is attributable to several factors, including the expertise and training of anesthesiologists, the cost of medications and equipment, the complexity of monitoring vital signs, insurance considerations, and overhead expenses.
References
Garmon EH, Huecker MR. Topical, Local, and Regional Anesthesia and Anesthetics. PubMed. Published 2020. https://www.ncbi.nlm.nih.gov/books/NBK430894/ 
Benzoni T, Cascella M. Procedural Sedation. PubMed. Published 2021. https://www.ncbi.nlm.nih.gov/books/NBK551685/