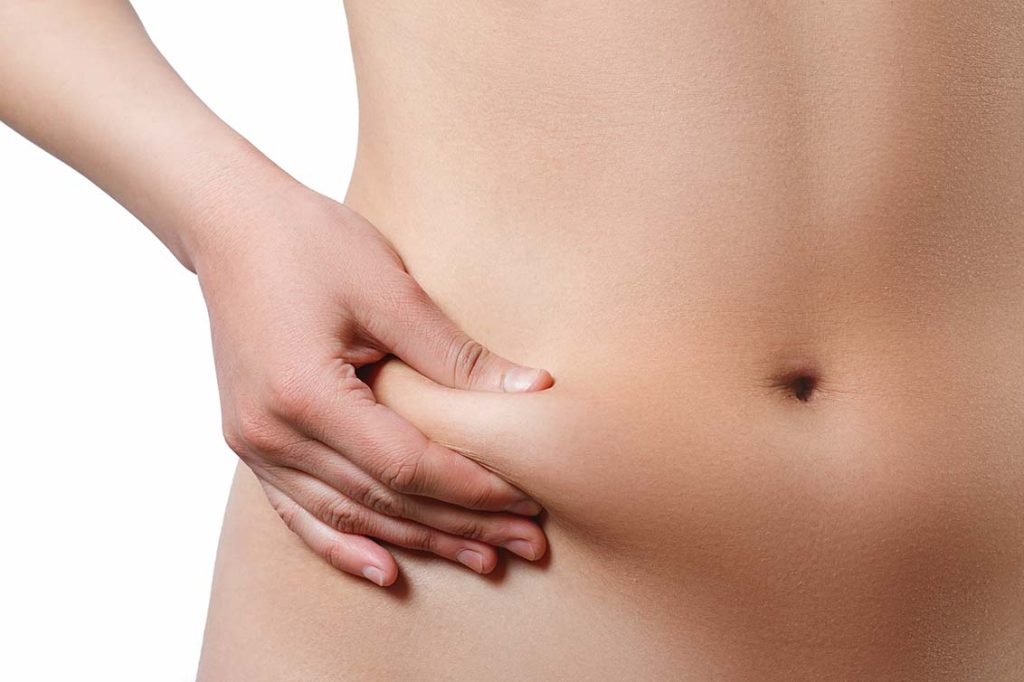 Liposuction and tummy tuck (abdominoplasty) are two transformative body contouring treatments that can improve the appearance of the abdomen. However, each procedure addresses different concerns, and has distinct objectives. Liposuction can be performed to remove fat from multiple areas of the body, including the abdomen. A tummy tuck focuses solely on the midsection, removing excess skin and repairing damaged abdominal muscles.
Each of these procedures have helped both men and women improve contours affected by aging, genetics, hormonal fluctuations, pregnancy, and weight loss. At Denver Liposuction Specialty Clinic, our staff takes the time to meet with each patient to learn about their desires and concerns. After an in depth personal consultation, patients have the information they need and a recommendation by a caring medical professional. If you'd like to learn more about abdominal contouring and how to choose the procedure that's best for you, schedule an initial meeting with us by calling (720) 372-2155.
About the Procedures
Certain life events and inherited traits can prevent us from achieving the body we desire. We can develop loose, lax, and sagging skin that creates an unflattering appearance as time goes by. And despite efforts to eat right and regular exercise, the results still won't materialize. However, body contouring techniques such as abdominoplasties and liposuction are effective ways to achieve long-term improvements and tighter tummies.
Liposuction
Liposuction is one of the most frequently performed cosmetic surgeries worldwide, and over the last two decades, crucial developments in this fat-removing technology has made it safer, more efficient, and more comfortable than ever before.[1] Denver Lipo offers patients advanced liposuction options so that they can treat their areas of concern effectively. After all, diet and exercise have been proven ineffective to target localized fat deposits.[2] Fortunately, liposuction is an adaptable treatment that can selectively remove unwanted fat. 
Tummy Tuck
For some patients, excess fat is not as pressing a concern as loose, excess skin hanging from their abdomen. A tummy tuck surgically removes lax skin and repairs the abdominal muscles that are frequently damaged from pregnancy or obesity. Although liposuction can't improve skin concerns, it can be added to a tummy tuck for a comprehensive abdominal makeover.
Types of Liposuction
Tumescent Liposuction
Today's liposuction procedures are performed using Tumescent Liposuction. The treatment area is infiltrated with this specially formulated solution that reduces bleeding, improves patient comfort, and eases the removal of fat. Once the tumescent fluid has taken effect, the surgeons at Denver Lipo can begin suctioning away fat. And, with the addition of energy-based technology to the liposuction process, patients can enjoy several important advantages when contouring their abdomen and other treatment areas.  
SmartLipo
SmartLipo uses a microcannula equipped that emits gentle laser energy. This creates a thermal effect that makes fat easier to remove and helps improve skin laxity. The heat causes the collagen in the dermis to contract, so that once the fat is removed, the skin retracts, forming to the new more slender contours. It also stimulates the production of additional collagen, so that over time, patients see firmer, smoother skin in the treatment area.
VASER Liposuction
VASER Liposuction uses ultrasound technology. The ultrasonic waves emitted by the VASER device agitate the tumescent fluid, causing the fat to emulsify and easing removal. Because fat is removed more easily, less surrounding tissue is damaged, and skin is better able to retract during recovery. [3] VASER liposuction allows us to remove more fat and get smoother results than SmartLipo.
Types of Tummy Tuck
Although advanced liposuction techniques can help prevent loose skin from forming after fat removal, liposuction is not a solution for excess skin. Patients with this concern are recommended an abdominoplasty, or tummy tuck procedure, and there are a variety of surgical approaches performed today. Liposuction can also be incorporated for comprehensive improvements. The type and extent of surgery is determined by the patient's concerns, and the extent of their condition.
Full Abdominoplasty
This standard treatment treats moderate to severe skin laxity issues. It requires two incisions: one running hip to hip, just above the pubic area, and another around the belly button. Skin and fat are removed, and the abdominal wall is repaired. 
High Lateral Tension Tummy Tuck
This highly specialized treatment slims down the abdomen and waistline by pulling the skin horizontally and vertically across the abdomen, resulting in an hourglass-like shape.
Avelar Technique
The treatment combines conventional abdominoplasty and liposuction in a single session to provide alluring abdominal contours. Only a few incisions are required to remove fat to provide an optimized body.
Mini Abdominoplasty
Mini abdominoplasty makes minimal revisions to the stomach. A small incision is made in the lower abdomen just above the pubis. [4] Excess skin and fat are removed, and skin is strengthened.
VASER (Mini) Abdominoplasty
This version of tummy tuck is perfect for patients with smaller amounts of sagging skin but want to eliminate stubborn body fat for a more sculpted core. After small incisions along the pubic line are made, a VASER cannula will be inserted into the abdomen to remove stored fat. This allows us to highlight your abs more effectively.
Floating Abdominoplasty or FAB Technique
This version of abdominoplasty is considered less invasive and can address cases where the belly button is too high on the abdomen. First, the belly button is separated from the tissue, so it "floats" away from the abdominal skin. Muscles are then reshaped and tightened from the sternum or breastbone to the pubic area. When the skin is redraped, the belly button is relocated lower on the abdomen. 
Extended Abdominoplasty
Patients can make substantial revisions to the mid-section, including the flanks, with an extended abdominoplasty. It will require slightly longer incisions that expand past each hip bone to the side of the lower back. In addition, our medical staff can address sagging skin around the flanks or love handles.
Before and After Photos
Benefits of Liposuction and Tummy Tuck
Liposuction and tummy tucks deliver metamorphic changes to the body. However, both offer exciting benefits. They include:
A Liposuction Treatment Provides
A simple procedure that suctions out surplus fat deposits
A customized process that targets the abdomen, flanks, buttocks, and back
A slimmer, optimized waist-to-hip ratio
A massive surge in self-confidence and freedom to wear more exciting clothing options
Long-lasting effects
A Tummy Tuck Treatment Provides
Balanced contours for the abdomen and waistline
Better support by repairing the damaged abdominis recti
Refines posture, movement, and core strength
A boost in self-esteem and confidence, including more ability to wear a wider selection of form-fitting clothing
Ideal Candidates
Liposuction or tummy tuck allows healthy, non-smoking patients with an ideal BMI to get one step closer to achieving a more attractive body aesthetic. Patients considering liposuction can reduce fat deposits in multiple areas such as the abdomen, hips, thighs, and flanks. Conversely, tummy tucks are ideal for patients who wish to remove excess skin and fat from the abdomen. It is an excellent procedure for weight loss patients and women who have recently given birth. Additionally, the treatment vastly reduces discomfort and mobility issues caused by weak or damaged abdomen muscles.
Personal Consultation with Denver Liposuction
Patients will have the opportunity to discuss their aesthetic goals at their consultation. Then, after evaluating your medical history, examining your condition, and hearing your concerns, we will devise a plan that determines which version of liposuction or tummy tuck works best. We'll then tell you how your unique treatment will improve your contours.
To determine which treatment is suitable for you, book an appointment by calling (720) 372-2155.
Preparing for Surgery
Patients are asked to prepare for surgery weeks in advance to reduce stress and enhance the surgical experience. We'll ask patients to:
Hold off on smoking cigarettes and using other nicotine products. Smoking prevents normal blood flow and may prolong your healing period.
Avoid anti-inflammatories, pain relievers, and other medicines until directed by staff. Some of them may cause unnecessary bleeding.
Pay a visit to your local pharmacy and pick up the medication ordered by our office.
Designate a family member, loved one, or caring friend to pick you up after surgery is done. Anesthesia will affect your ability to drive.
Discuss with your boss about taking 1-2 weeks off to heal.
Liposuction or Tummy Tuck: What to Expect
Before your treatment begins, we'll first administer anesthesia to quell any discomfort. Once in effect, we will carry out your treatment plan based on what was discussed at your consultation. Here's what your experience may look like:
Liposuction
Once markings are made, the surgeon will make the appropriate incisions and utilize the techniques mentioned above. Then, tumescent fluid, a chemical compound that reduces bleeding and maximizes comfort, will be injected. [1][5] This allows a thin cannula to be carefully inserted to remove the fat from the body. This process is repeated in each area until the desired aesthetic is perfected. Within 3-4 hours, your incisions are closed, and compression garments are applied.
Tummy Tuck
After we make the relevant incisions, fat, and skin excision will begin. Next, the abdominal wall is repaired, the skin is pulled tight, and excess skin is removed. Finally, we conclude the surgery in about 3-4 hours by closing incisions with dissolvable sutures, placing a compression garment over the area, and placing drains to collect fluids.
Recovery
You will most likely encounter mild soreness, stiffness, bruising, and discoloration during the first week. So, please get plenty of rest. However, these signs will become less evident with the pain relievers we provide. Avoid putting strain on your incisions by sleeping in an inclined position. During their recovery, patients will come in for follow-up appointments to monitor their progress. Patients should feel confident enough to resume light activity within two weeks, including desk work. Strenuous activities can be continued in another 3-4 weeks. 
Results
Liposuction and tummy tuck patients will notice significant, long-lasting changes to their bodies after their recovery ends. However, future weight gain may affect results, so it is essential to include healthy eating and exercise habits.
Cost
The procedure used to treat your case will influence your final price. Denver Lipo will give each interested patient a personalized figure at their consultation. You can always call us beforehand to receive a general quote.
References
*RESULTS MAY VARY