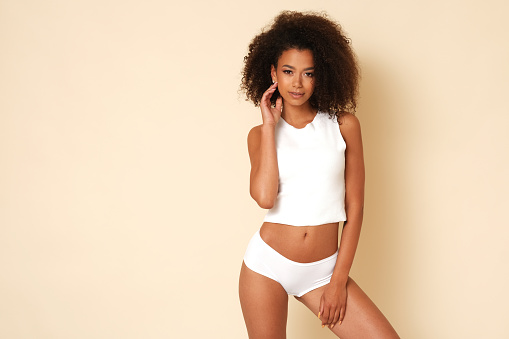 Liposuction 360 is a comprehensive body contouring procedure that removes fat from the entire circumference of a patient's torso for balanced proportions and a sculpted look. Liposuction doesn't have to only target just one area at a time. If you have unwanted fat buildup in your midsection, it's likely that there are a few problem areas. Lipo360 can slim down the love handles, smooth out back rolls, and contour a waist. If you want the benefits of liposuction, and want to look lean and attractive from all angles, Lipo 360 is the innovative fat removal solution that you need.
Liposuction has advanced tremendously since its inception in the 1970s, and today it is one of the most frequently performed cosmetic surgeries. At Denver Liposuction Specialty Clinic, we take pride in staying up-to-date with developments in liposuction treatments and utilizing the latest technologies. For our Lipo360 procedure, we implement the VASER Lipo techniques to reduce bruising, shorten recovery times, and provide a more comfortable experience for patients. As a leading clinic of liposuction in Denver, educating our patients is our priority. Give us a call at 720-372-2155 or schedule a free consultation to learn about the various options our practice has to offer. 
About Lipo360
Like other liposuction procedures performed today, Lipo360 is based on the fat removal methods pioneered by Dr. Yves-Gerard Illouz. In 1982, Dr. Illouz made an important advancement in liposuction safety and efficacy by discovering that injecting saline into the treatment area allowed for much easier fat extraction.
Then, in 1987, Dr. Jeffrey Klein developed the formula for tumescent fluid. This fluid is a mixture of saline, epinephrine for shrinking blood vessels, and lidocaine as an anesthetic. This is to minimize bleeding during the procedure and discomfort during recovery. After it is injected, the saline in the solution causes fat deposits to swell and become firm, which makes the fatty tissue easier to remove. The safest methods of fat extraction utilize this solution.(1) The fluid is still used today and is still an essential tool in the tumescent liposuction procedures we perform at our clinic. 
What is VASER Lipo?
Lipo360 is a step up from a basic liposuction procedure because it targets more than one area. This 360-degree transformation can be achieved by utilizing VASER Liposuction technology. This advanced form of liposuction technology combines the benefits of tumescent fluid with ultrasound waves to help to separate fat from the surrounding tissues, allowing surgeons to remove more fat more efficiently. With VASER, settings can be adjusted for both high volumes of fat and more delicate areas- allowing for more precision and better results. This type of liposuction allows patients to enjoy a faster recovery time and a more natural look due to the accuracy of the technology.
SmartLipo is also performed with numbing tumescent fluid, making general anesthesia unnecessary. The revolutionary aspect of this procedure is that a laser is used to melt fat in the treatment area before it's removed- making it much easier to suction out. The laser technology also creates a thermal effect that tightens skin and stimulates the production of collagen, so skin can retract and conform to the newly created contours, reducing risk of contour irregularities. (3)
Benefits of Lipo360
With Lipo360, you can tighten and sculpt your hips, midsection, upper and lower back, and waist all in one procedure. We understand that men and women have different needs; our surgeons can design a customized plan based on how you imagine your dream body. Lipo360 addresses the physique from every angle, so patients can enjoy a more uniformly lean look. With your new, sculpted body, you can wear the fashion you want, be confident in a bathing suit, and feel like your most attractive self.
Ideal Candidates
To see what magic Lipo360 has to offer, patients will need to meet certain criteria for our doctors to perform their best work safely.
Liposuction is also not for people who still need to lose a significant amount of weight; you should be within 30 lbs of your goal weight. You should be in good health and have fat deposits that simply don't go away with a healthy diet or exercise routine. Since pregnancy is accompanied by natural fluctuations in weight, and can impact the structure of the abdominal tissue, it can diminish the results of Lipo360. However, if you're simply fed up with having that stubborn belly and back fat, Lipo360 is here to solve all of it.
Personal Consultation
Our team is ready to meet your needs and help you fulfill the vision you have for your body. If you want top-notch treatment at one of the best facilities for liposuction in Denver, our experts have got you covered. Just take a quick glance through our reviews! 
Our initial consultation is free, so ask any and all questions that you may have. Our patient coordinator will take into account your desires and preferences while offering their own professional advice. Give us a call at (720) 372-2155 to schedule your complimentary consultation or submit a message to take the first step today. 
Preparation
Preparing for your Lipo360 procedure, ensures that you'll have a smooth recovery and optimal outcomes. Your surgeon will determine whether your medications or supplements need to be adjusted. A blood test will be required as well as an overall assessment of your health in order to ensure that you can undergo surgery safely. They will also give various recommendations that will help you get the best results possible: 
Stop smoking or vaping for at least two weeks before the procedure. The chemicals in cigarettes and vapes affect the quality of your blood circulation. Poor circulation causes slower recovery and a higher risk of long-lasting scars.
Stop taking anti-inflammatory medications or blood thinners. Both of these can cause more bleeding during and after the procedure.
Come to your appointment with comfortable and loose clothing. You'll want clothes that are easy to put on, since you will be tender after the anesthesia wears off.
Liposuction Procedure Steps
First, the surgeon will use a marker to identify the areas where small incisions will be made. Our clinic, in particular, uses PRO-NOX for every procedure. This device delivers half oxygen and half nitrous oxide to provide both pain and anxiety relief for our patients.
Once the patient is resting comfortably on their back, the areas to be treated are infiltrated with tumescent fluid. After it has taken effect, small incisions are made in discreet locations adjacent to areas with fat deposits to be removed. If VASER liposuction is being performed, the ultrasound probe will be inserted into the incisions, and the energy will agitate the tumescent fluid, causing a cavitation effect that loosens the fat from the surrounding tissues. Then, the suction device, called a cannula, is inserted into the treated fat. The cannula tube itself is very thin. If SmartLipo is being performed, the laser energy is emitted directly from the specialized cannula to emulsify fat and tighten skin as the unwanted fatty tissue is suctioned away. The combination of small incisions and a thin cannula work to minimize the chance of noticable scars from the incisions. Once the abdomen and flanks have been treated, the patient is moved so that the surgeons can access the treatment areas on their back. The process is repeated until the desired results are achieved.
Many times, suturing is not needed after liposuction is completed. If sutures are used, they are often very small and can be removed 7 to 10 days after the procedure. Sometimes, the sutures placed can be absorbed by the body, so removal isn't necessary. Most of the time, only gauze and surgical tape are needed. The treated areas will be wrapped in a compression garment, and the patient will be moved to a recovery room. The entire procedure itself takes about 1 to 3 hours, depending on the amount of fat removed.
Recovery
After a brief monitoring period, Lipo 360 patients are able to be released to their designated caregiver, who will need to drive them home. The lidocaine used in the tumescent fluid will begin to go in effect after 90 seconds and will last 60-90 minutes or longer. Patients are given instructions on how to care for their incision sites, as well as an extensive list of post-operative instructions. You'll start wearing your compression garment immediately after the surgery is done, and for the duration of your recovery. This compression garment will minimize swelling and ensure that the treated areas are smoothly contoured. It will need to be worn full time anywhere from 3 to 6 weeks. An exception can be made for short showers.
If you have a sedentary job, you may be able to return to work in as little as one week. Depending on your habits and how extensive the surgery was, you'll get to see the final results in about 3-6 months. There are a few steps you can take to speed up your recovery: 
We recommend that you begin lymphatic massages 1 to 3 days after surgery. This type of massage will help relieve swelling, improving the contours of your body as you heal.
Maintain a low-salt, healthy diet that is rich in protein.
Incorporate light exercise, like walking, into your daily routine as soon as you're able to. Regular movement will help maintain the healthy circulation necessary to heal.
Strenuous exercise can typically be resumed after 3 weeks.
Results
Without the stubborn layer of unwanted fat masking your musculature, your body can finally reflect the hard work you put in at the gym. You'll be able to look at yourself confidently in the mirror and walk through the world with renewed confidence. Once you've fully recovered, you'll be able to enjoy wearing your favorite form-fitting clothes without the nuisance of unwanted bulges. Lipo360 can give you an all-around confidence that lets you get the most out of life!
Cost of Lipo360
Lipo360 is a comprehensive procedure and more extensive than standard liposuction surgeries which only target one part of the body. Every Lipo360 procedure is tailored to the patient's unique anatomy and desires, and so the price will vary from patient to patient. The cost of Lipo360 is based on the size and number of areas treated and the extent of treatment required. To get the best idea of what your procedure will cost, schedule a free consultation appointment with our clinic by calling (720) 372-2155. We are located in Englewood, CO- just a few miles from downtown Denver. 
FAQ 
How long do the results of Lipo360 last? 
While it may take 3-6 months for your final look to settle in, the results are permanent. However, even though fat cells are removed, the remaining cells can grow larger and contribute to weight gain. For this reason, it's important to follow a healthy diet and exercise routine. 
Will I be in pain after Lipo360? 
After the effects of anesthesia wear off, most patients experience soreness and discomfort. Although it varies from patient to patient, pain can be managed with prescription and over-the-counter medications. 
When will I see the results of Lipo360? 
Most of the swelling will have subsided about 4 weeks after the procedure. However, the final results may not be visible for 3 to 6 months. 
Can I get Lipo360 if I'm overweight? 
Lipo360 is a body contouring procedure, not a weight loss solution. Patients with high BMIs may not be able to undergo surgery safely, and we recommend reaching a stable, healthy weight before pursuing a liposuction procedure of any kind. The ideal candidate for liposuction is within a 30 lbs range of their optimal weight. 
References
Halk AB, Habbema L, Genders RE, Hanke CW. Safety Studies in the Field of  Liposuction: A Systematic Review. Dermatol Surg. 2019;45(2):171-182.  doi:10.1097/DSS.0000000000001707
Hoyos, A, Millard J. VASER-Assisted High-Definition Liposculpture. Aesthetic Surgery Journal. 27(6), 594-604. https://doi.org/10.1016/j.asj.2007.08.007
McBean JC, Katz BE. Laser lipolysis: an update. J Clin Aesthet Dermatol. 2011;4(7):2534.https://www.ncbi.nlm.nih.gov/pmc/articles/PMC3140909/pdf/jcad_4_7_25.pdf