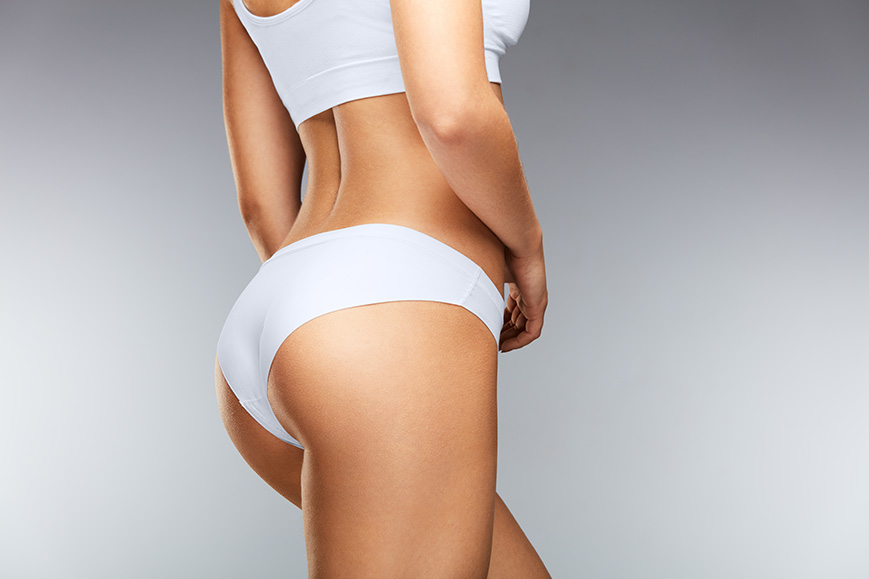 A Brazilian Butt Lift (BBL) is a surgical procedure that uses a patient's own fat to achieve fuller, curvier buttocks. Using liposuction, fat is removed from a "problem area" such as the hips, or abdomen, to improve the overall aesthetic of the lower body. The Brazilian Butt Lift is a popular buttock augmentation that lifts the contours of the buttocks through strategic injections of this fat. If you're looking for a way to eliminate stubborn deposits of fat while boosting your butt, a BBL at Denver Liposuction Specialty Clinic might be just the thing. Our surgeons can take what's already yours, and put it where it's needed so you can get the curves of your dreams. Because the procedure uses fat from your own body, you've got what takes! If you would like to learn more about this procedure and whether you're a good candidate for a BBL, contact us today at (720) 372-2155 to set up a consultation!
About
Diet and exercise can only go so far when it comes to our measurements. We can't control the DNA that determines our skeletal structure or the way in which our bodies store fat. As recent trends and tastemakers have brought curvier figures into vogue, BBLs have skyrocketed in popularity. Previously, patients had to rely on silicone implants to add oomph to their rear. But with improved liposuction techniques and a focus on the benefits of autologous fat grafting, that is, fat taken from the patient's own body, synthetic alternatives and invasive procedures have fallen out of favor. In fact, 94% of the gluteal augmentations performed in 2018 used fat transfer, which is now considered the gold standard for improving volume.(1) During a Brazilian Butt Lift, surgeons use liposuction to harvest donor fat from the flanks, thighs, back, or abdomen. The fat is then purified and prepared for injection. The fat is injected at various strategic points around the buttocks to create the desired shape. Because the fat cells are living and naturally contain regenerative properties, they are able to settle into their new home and establish a healthy blood supply. As a result, patients enjoy greater volume thanks to natural, living tissue. (2)
Benefits
Women and men opt for a BBL as a natural way to enhance their backsides, and the removal of unwanted fat from the surrounding areas further accentuates these new curves.
Advantages of a BBL
A more dramatic waist-to-hip ratio for an hourglass figure
Ability to fill out form-fitting bottoms
Creates a rounder and more youthful butt
A fuller posterior without the risks of synthetic implants
Eliminate "hip dips" for smoother curves
A minimally invasive procedure with long-lasting results
How To Determine If You May Be A Candidate For A BBL
Ideal candidates for a BBL are in good health, and free from any underlying health conditions that could interfere with the procedure and recovery. Good skin elasticity in the donor areas will ensure that skin is able to retract after fat is removed, and that sagging skin can be avoided. Candidates should also have enough excess donor fat to add to the buttocks in order to create the desired look and shape. They should also be at, and able to maintain a stable weight in order to best maintain their results after surgery. Recovery from a BBL requires significant lifestyle adjustments, so patients should be willing to make the necessary accommodations during their recovery. This includes avoiding sitting or lying on their backs for roughly three weeks after the surgery.
Personal Consultation
When looking for a surgeon to perform a BBL, you should work with a professional who puts you at ease. That means ample experience, board certification, a history of excellent results, and the willingness to work closely with patients to make sure their unique needs and desires can be met. During your personal consultation at Denver Lipo, you'll be meeting with an expert surgeon that specializes in liposuction procedures.
Liposuction expertise is integral since the hips, abdomen, thighs, or other donor areas will be treated with liposuction before the harvested fat is injected into the buttocks. A doctor skilled in liposuction ensures that the impacted areas will achieve even contours to enhance the effect of the newly augmented butt. During this consultation, you'll have the opportunity to ask questions and receive answers. Take a look at our before and after gallery to see the results from other satisfied patients!
How To Prepare For The Brazilian Butt Lift Procedure
Before going under the knife, we work with our patients to make sure that they have realistic expectations for their results. The more a patient understands about their own goals for the procedure, the more likely they will be pleased with the outcome.
To adequately prepare, we recommend:
On-hand Support: We ask that you have a friend, acquaintance, or family member present to drive you home after the procedure. Because the Brazilian Butt Lift requires anesthesia, you will not be in a state to drive yourself home. After the procedure, you will be held in the waiting area for a few hours before being released to your attending caretaker.
Comfortable Clothes: On the day of the procedure and well after, we recommend that you wear comfortable, loose-fitting clothing. You'll be dressed in a compression garment after your procedure, and this will ensure that you can dress easily when its time to return home.
Fast as Directed: The night before your procedure, we ask that you do not eat food past midnight. Anesthesia requires an empty stomach to avoid complications such as nausea or aspiration (when food or liquid gets caught in the lungs). If you eat too close to your appointment, please inform your doctor. We will take the necessary safety measures and may need to reschedule your appointment.
Medications: Avoid blood-thinning medications that can lead to excessive bleeding during and post-procedure. This includes aspirin, warfarin, garlic supplements, fish oil supplements, ibuprofen, and Vitamin E supplements.
Designate a Recovery Space: Arrange a comfortable place in your home to recover. You'll need to avoid putting any pressure on your backside after your BBL, so make sure you have pillows and furniture available that will allow you to rest on your stomach. You'll also need to acquire a special pillow for the car ride home and for other situations where sitting is required. You'll receive other helpful information about how best to make arrangements to protect the area as you heal.
Procedure
The BBL is performed as an outpatient treatment under general anesthesia. To perform the procedure a surgeon will liposuction excess fat from the thighs, abdomen, and hips. Then the fat is purified and prepared for injection. The liposuctioned fat is then injected into different points on the buttocks to create the desired shape.
Recovery and Results
A patient will feel tenderness and may not be able to sit for about two weeks. However, they can likely return to light activity within 10 to 14 days. The procedure requires that patients sleep on their stomach. During the day, kneeling or standing while performing daily tasks is recommended. During the first weeks of recovery, a supportive pillow should be placed under the thighs to minimize pressure on your buttocks during instances where sitting is required. Patients will need to avoid sitting for about three weeks post-procedure and continue to wear their compression garment during this time. A full recovery from a BBL can take up to six weeks. At this point, tenderness and swelling will have subsided and the final look, shape, and feel of your new behind can be observed. With proper, consistent maintenance of health, diet, exercise, and maintaining a stable weight, the final results can last for years. Because the living fat cells have made a new home in your buttocks, the area will naturally respond to fluctuations in weight. Weight loss can affect your results, which is why it is recommended that BBL patients be a stable weight and maintain it in order to preserve their results.
How Much Does a Brazilian Butt Lift Cost in Denver?
We discuss costs during the consultation phase, where we learn about your unique case and your needs. The total cost of your BBL is based on the complexity of the procedure and will include anesthesia and facility fees. You'll be given a comprehensive breakdown of the costs of your procedure following your personal consultation. To learn more about a Brazilian Butt,  contact Denver Liposuction today to schedule a consultation appointment! You can reach our Englewood offices by calling (720) 372-2155 or filling out an online form at your convenience.
References
O'Neill RC, Abu-Ghname A, Davis MJ, Chamata E, Rammos CK, Winocour SJ. The Role of Fat Grafting in Buttock Augmentation. Seminars in Plastic Surgery. 2020;34(01):038-046. doi:10.1055/s-0039-3401038
Shauly O, Gould DJ, Ghavami A. Fat Grafting: Basic Science, Techniques, and Patient Management. Plastic and Reconstructive Surgery – Global Open. 2022;10(3):e3987. doi:10.1097/gox.0000000000003987