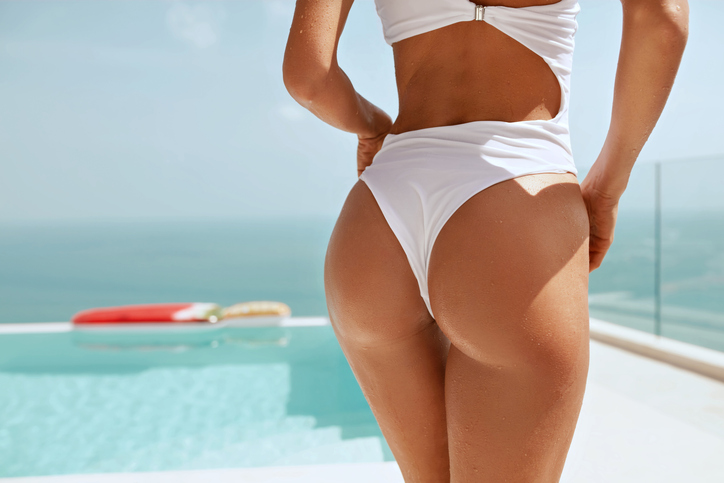 Buttocks liposuction is a body contouring procedure that suctions fat deposits from the butt and/or surrounding areas to improve the shape of your behind. If you are looking for ways to slim and create a better contour of your buttock area, you've come to the right place! Dieting and exercise can only accomplish so much. With advanced liposuction techniques, our top Colorado liposuction specialists can expertly contour your body to your specific goals.
If you are ready to transform your silhouette, start by scheduling your consultation at Denver Liposuction Specialty Clinic today by calling (720) 372-2155 or filling out our online form. Your newly sculpted body is waiting!
About
Buttocks liposuction is a cosmetic procedure designed to either reduce the size of the buttocks by removing fat directly from them or improve the overall shape by liposuctioning the lower back, hips, and thighs. The goal of this procedure is not to increase the size of the butt; rather, it provides better proportion and heightened contour. At Denver Liposuction Specialty Clinic, we offer traditional liposuction and VASER Lipo to meet every patient's needs and goals. Both of these advanced fat removal devices emulsify fat but in different ways.
About SmartLipo
SmartLipo is a laser-assisted liposuction procedure that melts the fat with a thermal energy laser before safe and rapid removal. The laser has three different wavelengths which allow our lipo experts to both melt fat and promote skin tightening through new collagen growth during the process. [1]
About VASER Lipo
VASER Lipo is ultrasound-assisted liposuction that emulsifies fat deposits through the use of pulsed sound energy. It is commonly performed to help define underlying muscle tone. [2] Our surgeons are VASER Lipo experts. They'll be able to recommend which of these methods will provide you with the results you are looking to achieve during your personal consultation.
Benefits
Buttocks liposuction can achieve a perkier-looking butt without injections, large incisions, or any skin removal. The ideal appearance is typically created by liposuctioning the surrounding areas like the thighs or the lower back.
When receiving liposuction at Denver Liposuction Specialty Clinic, you are in the capable hands of top liposuction experts. We offer VASER Lipo for easier and more effective removal of stubborn fat deposits. This liposuction technique offers improved skin tightening in addition to fat removal.
Candidates
Candidates for buttocks liposuction in Denver, Colorado are looking to enhance the shape, contour, and proportion of their butt without enlarging it. The appearance of a full and perky butt can be achieved with liposuction of certain areas of the buttocks and surrounding areas. Patients should have good skin elasticity to make sure the skin does not sag or droop after the fat has been removed.
Patients must be in good health to undergo buttocks liposuction to reduce the risk of potential complications. It is important to know that this procedure is not a form of weight loss; liposuction is designed to extract stubborn fat to better contour the body. Liposuction patients should be close to their optimal weight but have fat deposits that are resistant to diet and exercise.
Personal Consultation
A buttocks liposuction consultation with the experts at Denver Liposuction Specialty Clinic will have you leaving confident in your decision to undergo this figure-enhancing body sculpting procedure. Our doctors are dedicated to making sure you are fully educated on the procedure you are undergoing. And after a physical examination, joint discussions take place to make sure that the right course of treatment is followed to provide you with your dream body.
Preparation
Preparation for liposuction is simple. Tobacco usage should be stopped two weeks before surgery. NSAIDs should also be avoided during this time to help avoid excessive bruising or bleeding. Any other medications that need to be discontinued will be discussed during your medical history evaluation at your consultation. And to make recovery as easy as possible, please make sure to have all rides and caretaking arranged before your surgery date. 
Procedure
Buttocks liposuction takes about two to four hours to perform and is a very straightforward process. You'll be administered the appropriate anesthesia to ensure that you remain comfortable throughout the procedure. Small incisions are then made in order to access the fat deposits with the cannula easily. 
The cannula is moved back and forth to break up and emulsify fat deposits. Fat is suctioned out during this process until the desired amount of fat has been removed to achieve your goal figure. Treatment areas for buttocks liposuction typically include the outer buttocks, thighs, and lower back. By treating this trio of areas, we can create perky, firm-looking buttocks without increasing volume.
If you are interested in repurposing the fat collected from liposuction, please also check out our fat transfer page.
Recovery
You will not be able to drive yourself home after the procedure; a ride will need to be arranged. Recovery from buttocks liposuction can take a couple of months depending on how much fat was removed and how your body responds to surgical procedures. However, since VASER Lipo make the fat removal process easier and causes less trauma to the surrounding areas, less strain is placed on the body in comparison to traditional liposuction. This means that your healing should be quicker and easier thanks to advanced technology and expert surgeons.
Sensations of numbness and/or soreness when the anesthesia wears off are common. You may need to sleep in certain positions for the first couple of weeks to not place unnecessary strain on the treatment area; this will be discussed during the consultation. Medications can be prescribed to help manage any discomfort. Keeping on your compression garment helps reduce bruising and swelling. It should continuously be worn, except while showering, for one to three months after your surgery.
Eating a healthy diet is one of the most important ways to heal your body and prevent the growth of surrounding fat cells. Additionally, drinking water ensures the skin stays adequately hydrated and aids in expelling excess fluids and debris from surgery. Exercise can be resumed within three weeks of surgery. More strenuous activities should be avoided until the doctor deems it appropriate to resume. You can resume normal activity when you are feeling comfortable. Please make sure to take any medications prescribed after buttocks liposuction and take proper care of the incision sites. Any additional personalized instructions will be provided to you at the consultation.
Results
Results after buttocks liposuction in Denver, Colorado are noticeable right after surgery. Slight swelling is normal after surgery though, so as soon as that fully subsides, best results can be enjoyed. Buttocks liposuction results are long-lasting as long as you maintain a good diet and exercise regularly. The tiny incisions on the buttocks are not noticeable. They will simply look like small freckles a few months after your surgery.
Corresponding & Complementary Procedures
Fat Transfer from Buttocks Liposuction
Fat transfers are in high demand these days. Many patients choose to have their fat extracted via liposuction to then be reinjected in areas they want to be larger or better sculpted like the breast or the butt. A fat transfer breast augmentation can create fuller and perkier breasts after volume loss due to breastfeeding or aging. 
Cost
The price for liposuction of the buttocks varies depending if the surrounding areas are liposuctioned as well. During your one-on-one consultation, you will receive an individualized quote based on where fat removal is necessary and how much needs to be removed to achieve the silhouette that best compliments your frame.
FAQ
Can I combine buttocks liposuction with other procedures?
Yes. Many patients choose to combine liposuction of the buttocks with other areas like the thighs or lower back. A fat transfer can also be easily performed with the fat collected from buttocks liposuction. Common transfer locations include the breasts and the buttocks. [3]
Can I get financing for liposuction of the buttocks?
Eligible patients can get financing for butt liposuction since elective cosmetic procedures aren't generally covered by insurance.
References
McBean JC, Katz BE. Laser lipolysis: an update. J Clin Aesthet Dermatol. 2011;4(7):25-34.
Hoyos AE, Millard JA. VASER-assisted high-definition liposculpture. Aesthet Surg J. 2007;27(6):594-604. doi:10.1016/j.asj.2007.08.007
Shauly O, Gould DJ, Ghavami A. Fat Grafting: Basic Science, Techniques, and Patient Management. Plast Reconstr Surg Glob Open. 2022;10(3):e3987. Published 2022 Mar 18. doi:10.1097/GOX.0000000000003987