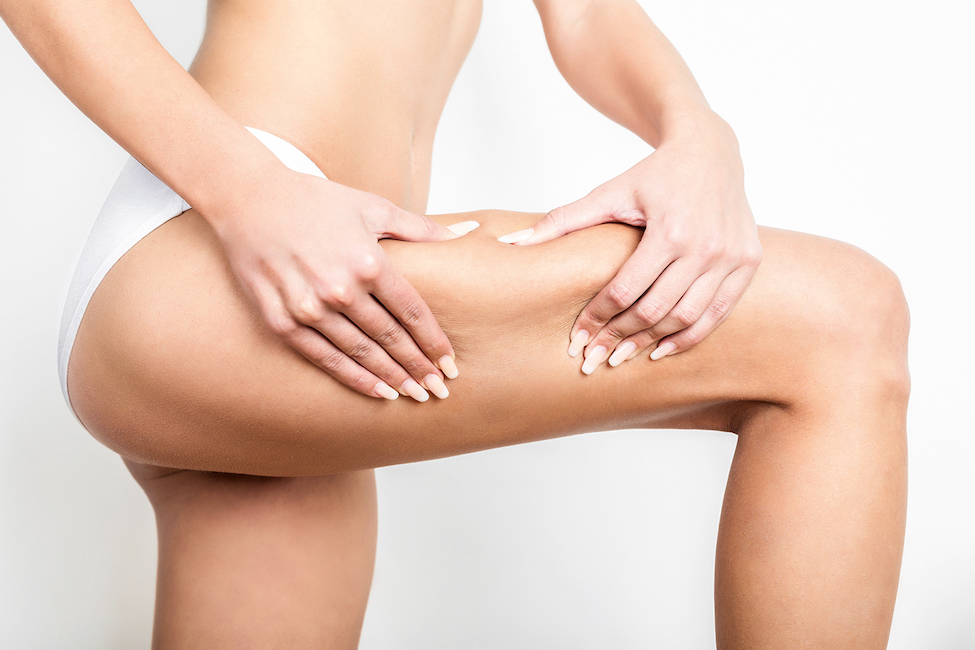 Slim, Sleek, Contoured Thighs
Thigh liposuction is one of the most popular procedures we offer at Denver Liposuction Speciality Clinic thanks to the dramatic results it delivers. Liposuction permanently removes the fat deposits you see in the mirror and reveals gorgeously sculpted thighs. Women who have gained weight often complain of chafing in the thigh area; this chafing can make it uncomfortable to walk, exercise, and wear clothing like skirts and dresses. But these issues can easily be remedied by removing inner thigh fat with liposuction.
Our Denver, CO surgeons are board-certified and specialize in plastic surgery, specifically liposuction, and aesthetic surgery. Start your journey by scheduling a complimentary consultation today. Call (720) 372-2155 and our coordinator will be happy to assist you. Your new body awaits!
More About Liposuction of the Thigh
Cosmetic surgery in the thigh area is somewhat complicated because there are so many angles to approach it from, as well as the area surrounding the inner knee. This requires the right touch from an experienced cosmetic surgeon. Our incredible surgeons can produce natural-looking results in all areas, including the inner knee, which will ensure symmetrical results. 
The areas of your thighs that can be targeted using liposuction are:
Inner Thigh
Women are genetically predisposed to fat storage, especially in the thigh area. [1] The inner thighs are often resistant to diet and exercise making this a common problem area. Luckily for you, this area of the body is easily targeted.
Outer Thigh
The outer thigh liposuction creates an immediate overall slimming effect. The stubborn fat stored in the outer thighs tends to be globular and is heavier than the fat of the inner thighs. While dieting and exercise can reduce fat deposits, patients with excess fat in areas such as the "saddlebags" may find liposuction a more convenient and permanent alternative.
Banana Fold
The banana fold, located just under the buttocks, is also considered part of the thigh. This area has a tendency to spread out, especially with weight gain and age. It really benefits from liposuction as it helps tighten the look of the buttock.
Front Thigh
The front of the thigh usually shows muscle definition. In some instances, the surgeon can suggest a treatment to make the muscle tone more prevalent.
Benefits of Liposuction in Denver, CO
You may want to consider thigh lipo to reduce unwanted fat and give your legs a slimmer, more elegant look. The further benefit of liposuction at Denver are:
Instant results
Permanent fat removal
Increased contouring
Better thigh gap/chafing relief
Minimal downtime
Better overall body proportions
By scheduling your liposuction procedure with Denver, you benefit from a team that specializes in lipo and can produce stunning results.
Candidates for Thigh Lipo
To determine if you're the right candidate for thigh liposuction, ask yourself these questions:
Have I tried diet and exercise and still don't like the look of my thighs?
Would I like my thighs to look slimmer, shapelier, and yes… sexier?
Am I in good health?
Am I at or close to my ideal weight?
Do I have good skin elasticity to help with recovery?
Do I have realistic expectations?
During your initial consultation, the trained coordinator will evaluate the shape of your leg to determine which areas would benefit the most from treatment.
Personal Consultation
During your consultation, we will evaluate your case and help you determine if liposuction is the right choice for you. We will take this opportunity to examine your legs and determine which areas would benefit the most from treatment. Additionally, we will determine which type of lipo is best for your case.[2]
Call us today at (720) 372-2155 and we will be happy to answer any questions you may have and help you get started on your journey to a gorgeous body!
Preparation for Thigh Liposuction
After you have decided that you would like to move forward with thigh liposuction, the next step is preparing for your procedure. During your pre-op visit, your surgeon will provide you with specific instructions on how to prepare, which may include:
Quit smoking
Avoid taking certain medications that may thin your blood
Get lab testing or a further medical evaluation
Arrange for someone to drive you home after the procedure
Preparing for your procedure will help ensure that you have a smooth and successful surgery with minimal complications.
The Procedure
On the day of your procedure, arrive wearing loose-fitting clothes that can be easily removed. Your doctor will review your pre-op tests and answer any last-minute questions. Then, you will receive a mild oral sedative with a local anesthetic.
To start your procedure, the doctor will make small incisions that will allow access to fat in your treatment area. The doctor will inject a three-part fluid into the area:
Lidocaine numbs the areas avoiding the need for general anesthesia.
Epinephrine constricts your blood vessels to prevent excessive bleeding.
A saline solution dislodges the fat cells and fat tissue.
Using a microcannula, or hollow needle connected to a suction device, the doctor finds and removes the fat. A ultrasound-assisted cannula will emulsify fat cells and promote new collagen, which will help with skin tightening. The operation takes less than two hours.
After your procedure, our staff will fit you with a compression garment and give you recovery instructions. Remember, you are required to have someone pick you up and drive you home after any liposuction treatment.
Recovery From Liposuction
Most patients experience some slight-to-mild discomfort for a few days after the fat-removal procedure. The numbness or pain usually decreases after the second or third day. We recommend that you rest for at least seven days following the procedure and avoid any strenuous workouts for at least three weeks. You will have some drainage for the first 5-7 days after the procedure, which is normal. Furthermore, the tiny incisions will heal in a few days.
Aftercare Instructions
Patients will need to take special care to follow the doctor's instructions to get the best results. Below are some critical self-care guidelines that patients should follow to achieve the best results from their procedure:
Wear the Compression Garment – Wear your compression garment 24 hours a day for approximately three weeks. Wearing the compression garment is essential because this elastic bandage provides support to the tissues as they heal. After three weeks of recovery, patients may be able to partially remove the compression garment but only on the doctor's instructions.
Eat Healthy Foods – During recovery, your body needs plenty of high-quality nutrients to heal correctly. Fresh fruits and vegetables, whole grains, lean protein, and nuts supply your body with all the energy it needs.
Stay Hydrated – When you drink fluids, your body will release toxins more rapidly. As a result, you can expect a speedier recovery.
Take Medications as Prescribed – If your doctor prescribes medication for you to take, be sure to follow the prescribed dosage on schedule.
Avoid Strenuous Activity – During recovery, your body needs as much rest as possible to generate new collagen and tighten the skin around the treated area. By avoiding strenuous activities, you can ensure that your body can repair itself. Get your doctor's permission before you return to any arduous exercise routine.
Most patients are fully recovered and back to their regular routine within a few weeks after surgery.
Thigh Liposuction Results
Liposuction of the thighs can result in a slimmer, more toned appearance. When done correctly, thigh liposuction can give you the following benefits:
A more proportional appearance to your lower body
Reduced size in the thighs
Improved contour and shape of the thighs
Clothes that fit better and look better on you
Higher self-esteem and increased confidence
If you are unhappy with the appearance of your thighs, contact us to find out more about Thigh Liposuction.
Corresponding & Complementary Procedures
Thigh Liposuction Plus Brazilian Butt Lift
Many patients have asked if a BBL can be done with the extracted fat from their thighs. The answer is yes! That is, as long as there is enough fat to inject high up in your buttocks, we can give you that dream heart-shaped or bubble butt you see all over social media.
What is the Cost of Thigh Liposuction in Denver?
Now that we've covered the ins and outs of the procedure itself, you most likely have one big question… How much can I expect to pay for thigh liposuction? The price you are quoted for your procedure is all-inclusive and covers:
Pre-op labs
Facility Fee
All operative anesthesia and medicine fees while at our clinic for your procedure
The Procedure Itself
Your Compression Garment
All follow-up visits
You'll even receive a complimentary consultation to allow you to meet our team, gather information on your procedure, and determine if Thigh Liposuction is right for you.
So why wait? Schedule your free consultation today! Call us today at (720) 372-2155 to get the ball rolling.
Can I Get Financing for My Cosmetic Surgery?
Elective liposuction procedures are generally not covered by insurance. We offer several financing options to make paying for your liposuction easier with reasonable monthly payments.
References
Power ML, Schulkin J. Sex differences in fat storage, fat metabolism, and the health risks from obesity: possible evolutionary origins. British Journal of Nutrition. 2008;99(5):931-940. doi:10.1017/s0007114507853347
Goldman A. Submental Nd:Yag laser-assisted liposuction. Lasers in Surgery and Medicine. 2006;38(3):181-184. doi:10.1002/lsm.20270